The Story of Amitabh Bachchan: How High is India's Legendary Actor??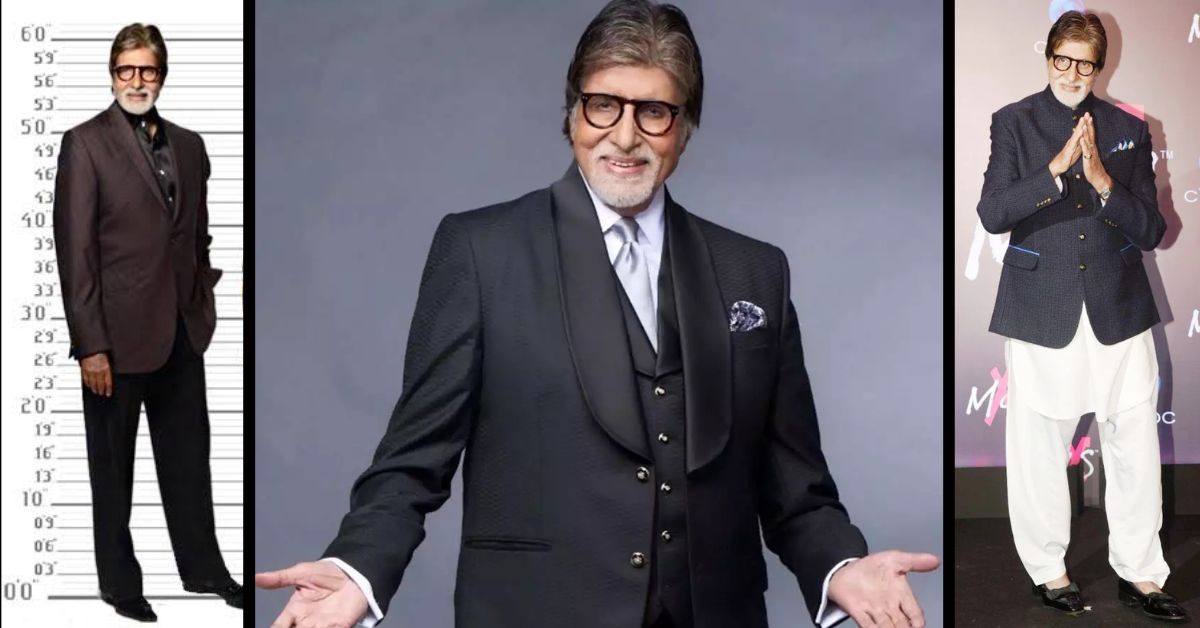 Amitabh Bachchan, known for his towering height of approximately 6.16 feet (1.88 meters), is a well-known Indian actor, film producer, television host, occasional playback singer, and former politician. He has made an indelible mark on Hindi cinema, appearing in over 200 films during his remarkable five-decade-long career. Bachchan is hailed as one of the most successful and influential actors in the history of Indian cinema.
His titles include "Shahenshah of Bollywood," "Sadi Ke Mahanayak" (meaning "Greatest actor of the century" in Hindi), "Star of the Millennium," and "Big B." In this article, we explore the life and career of Amitabh Bachchan, from his early days to his enduring legacy in the world of Indian cinema.
Early Life and Education
Amitabh Bachchan, born Amitabh Shrivastav on October 11, 1942, hails from Allahabad (now known as Prayagraj). He is the son of the renowned Hindi poet Harivansh Rai Bachchan and social activist Teji Bachchan. His early education took place at Sherwood College in Nainital and Kirori Mal College at the University of Delhi.
Learn more about these renowned figures:
Career: From Voice Narrator to Iconic Actor
Bachchan's Early Days
Amitabh's journey in the film industry began in 1969 when he worked as a voice narrator in Mrinal Sen's film, "Bhuvan Shome." It was a humble start, but it marked the beginning of something extraordinary.
Breakthrough in the 1970s
Amitabh Bachchan's rise to stardom came in the early 1970s with iconic films such as "Anand," "Zanjeer," "Roti Kapada Aur Makaan," "Deewaar," and "Sholay." His powerful and charismatic on-screen presence earned him the title of India's "angry young man." This phase in his career made him a household name.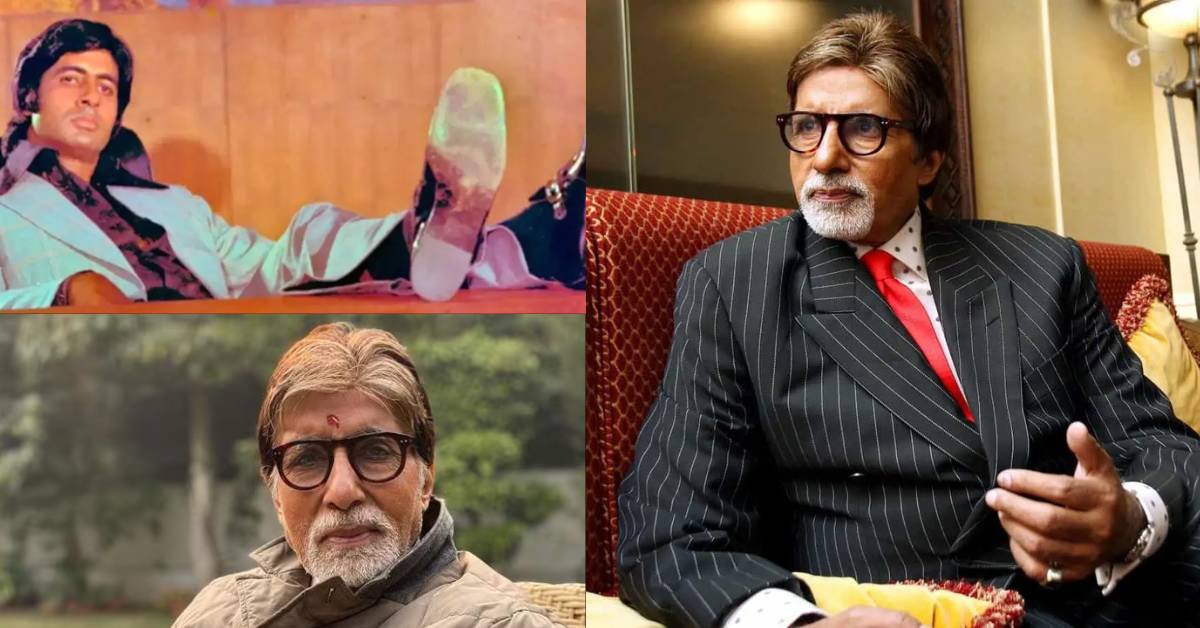 Achievements and Awards
Amitabh Bachchan's contributions to Indian cinema have earned him numerous accolades and awards:
Legendary Bollywood Actor Amitabh Bachan honored with Lifetime Achievement Award at the Joy Awards in Riyadh. The Indian star received the award from Turki Alalshikh, Chairman of General Entertainment Authority (GEA). #amitabhbachchan #amitabachan #joyawards #riyadh #RiyadhSeason pic.twitter.com/lcOtOS5PNv

— Me Friend (@mefriendapp) January 22, 2023
He holds a record of four National Film Awards in the Best Actor category. He has also received recognition at international film festivals and award ceremonies. Among his many honors, he boasts sixteen Filmfare Awards.
He holds the record for the most nominations in any major acting category at Filmfare, with 34 nominations for Best Actor and 42 nominations overall. The Government of India recognized his outstanding contributions by awarding him the Padma Shri in 1984, the Padma Bhushan in 2001, and the Padma Vibhushan in 2015.
In 2018, he received India's highest cinematic honor, the Dadasaheb Phalke Award, for his invaluable contributions to the arts. The Government of France also acknowledged his exceptional career by conferring upon him the Knight of the Legion of Honour in 2007.
Get a more comprehensive view of:
Personal Life and Family
Amitabh Bachchan has been married to veteran actress and politician Jaya Bhaduri since June 3, 1973, when he was 30 years old. The couple has two children: Abhishek, who followed in his father's footsteps as an actor, and Shweta, who is an author, journalist, and former model.
Abhishek Bachchan is married to the famous actress Aishwarya Rai, and they have a daughter named Aaradhya. Shweta is married to businessman Nikhil Nanda, who is part of the Kapoor family of actors. They have a daughter named Navya Naveli and a son named Agastya.
Amitabh's younger brother, Ajitabh Bachchan, is a businessman. While he briefly lived in London and worked there, he now resides in India with his family. His wife, Ramola, is a fashion designer who was once active in the business world. They have one son, Bhim, and three daughters: Naina, Namrata, and Nilima. Naina Bachchan is married to actor Kunal Kapoor.
Legacy and Influence
Amitabh Bachchan is celebrated as one of the greatest and most influential actors in the history of Indian cinema. His memorable performances and charismatic presence have earned him respect among critics and the public.
Often referred to as the "Shahenshah of Bollywood," the "Star of the Millennium," and "Big B," his impact on Indian cinema is immeasurable:
Signature tunes of some of Amitabh Bachchan movies on his 81st birthday.

Many happy returns of the day Bachchan Saaheb.@SrBachchan @AmitabhBachan @juniorbachchan @jayabachan78 #AmitabhBachchanBirthday #AmitabhBachchan pic.twitter.com/JcTIY3dUxH

— Dr Deepak Deshpande (@ddtimes) October 11, 2023
Amitabh Bachchan's influence has transcended borders. He has inspired generations of actors, including Rajinikanth, Chiranjeevi, Kamal Hassan, Shah Rukh Khan, Akshay Kumar, Manoj Bajpayee, Ajay Devgn, Mohanlal, Ranveer Singh, Allu Arjun, and Yash.
International Recognition
Amitabh Bachchan's contributions have garnered international acclaim. In 1999, he was voted the "greatest star of stage or screen" in a BBC Your Millennium online poll. TIME magazine recognized him as "the Undisputed Godfather of Bollywood" in October 2003.
Bachchan's influence extends to the realm of pop culture. In the early 1980s, he authorized the use of his likeness for the comic book character Supremo in a series titled "The Adventures of Amitabh Bachchan."
Honors and Awards
Amitabh Bachchan's exceptional career has been celebrated worldwide. In May 2014, La Trobe University in Australia named a scholarship after him. He became the first living Asian to have been modeled in wax at London's Madame Tussauds Wax Museum in June 2000. Statues in his likeness were installed in New York in 2009, Hong Kong in 2011, Bangkok in 2011, Washington, DC in 2012, and Delhi in 2017.
In March 2010, Bachchan was named in CNN's list of the "top 25 Asian actors of all time." He has also been recognized for his vegetarian lifestyle, earning titles such as "Hottest Vegetarian Male" by PETA India in 2012 and "Asia's Sexiest Vegetarian Male" in a contest run by PETA Asia in 2008.
Delve deeper into the lives of:
Honors in India and Beyond
Amitabh Bachchan's name graces various places and institutions in India. In Allahabad, the Amitabh Bachchan Sports Complex and Amitabh Bachchan Road are named in his honor. Additionally, a government senior secondary school in Saifai, Etawah, is known as Amitabh Bachchan Government Inter College.
There is also a waterfall in Sikkim known as Amitabh Bachchan Falls. In 2022, on the occasion of Amitabh Bachchan's 80th birthday, the not-for-profit organization Film Heritage Foundation announced a film festival showcasing 11 of his films in 17 cities across the country.
These films were screened in limited movie theaters, further cementing his legacy in Indian cinema. Amitabh Bachchan's life and career are nothing short of extraordinary. From his early days as a voice narrator to becoming one of the most iconic figures in Indian cinema, he has left an indelible mark on the world of entertainment.
His influence extends far beyond the silver screen, inspiring actors and earning accolades around the globe. As he continues to be celebrated for his contributions, Amitabh Bachchan remains an enduring legend in Indian cinema and an inspiration to many.