Netizens Rally Demanding Justice For Archana Gautam After Attack!!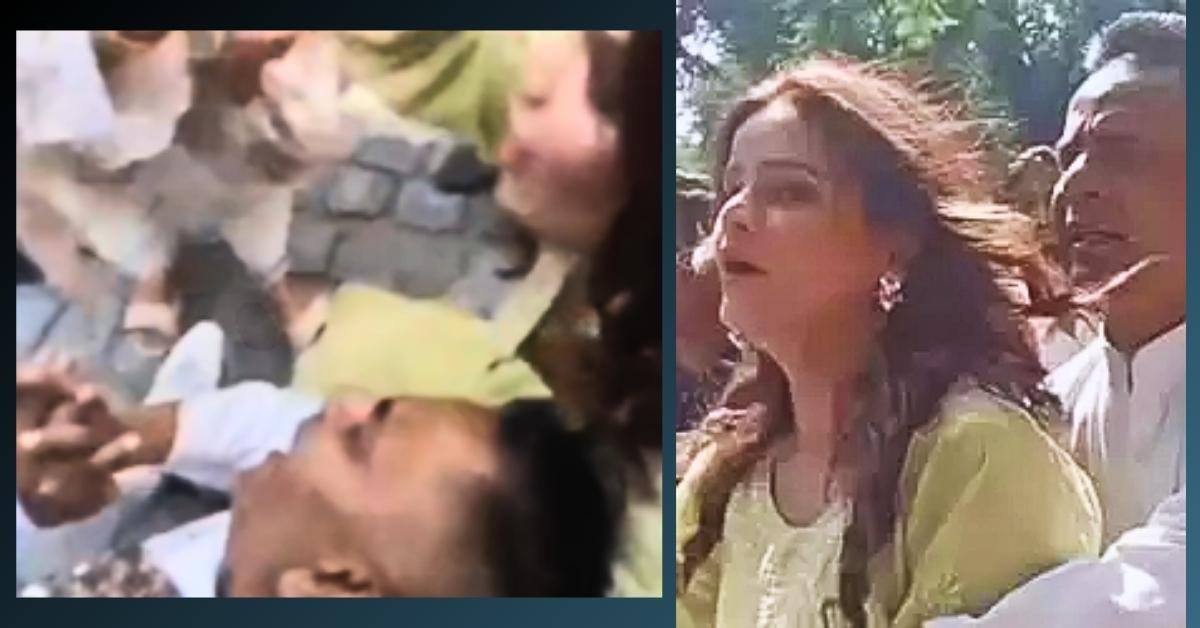 Archana Gautam, a well-known personality in the world of politics and entertainment, recently found herself at the center of a disturbing incident. The politician-turned-actress was allegedly attacked outside the Congress office in Delhi, and the incident has sent shockwaves across social media.
Videos of the incident have surfaced, showing Archana and her father attempting to escape from a mob, leading to an outpouring of support from netizens. The hashtag "Justice for Archana" began trending on social media platforms as people expressed their concern and demanded answers.
Congress workers attack actress #Archana Gautam #ArchanaGautam And her Father #Viralnews pic.twitter.com/sjJaMdGeCE

— Yogita Tyagi (Yogi) (@YogitaTyagi5) September 30, 2023
The Attack and Its Fallout
The incident, captured on video, has triggered a wide range of emotions and reactions from the public. In the footage, Archana Gautam and her father can be seen desperately trying to evade a group of individuals. They appear to be pushed and confronted during the ordeal.
These distressing visuals have left many deeply disturbed:
#ArchanaGautam Archana Gautam & her father allegedly man handled outside Congress office by congress karykarta's After this she got anxiety attack BP shot up & was hospitalised
she is hurt but she is not scared beating her dad a guy pulled her dupatta
Yah to kand Ho Gaya pic.twitter.com/yLEhxIkdSX

— 💝🌹💖jaggirmRanbir💖🌹💝 (@jaggirm) September 30, 2023
Bigg Boss fame Archana Gautam faces brutal attack, disturbing footage goes viral

Bigg Boss 16 fame Archana Gautam and her father were allegedly beaten by the karyakartas of the Congress party.
They were stopped from entering the party office and were beaten at… pic.twitter.com/2pm4X2cCbA

— VIRALWEB INDIA (@VIRALWEBINDIA) September 30, 2023
Upon witnessing the video clips of the incident, netizens took to social media to voice their support for Archana Gautam. The hashtag "Justice for Archana" gained momentum, reflecting the outrage and concern of the online community. People from various walks of life came together to show solidarity with the reality show star.
More about these famous personalities:
Mixed Reactions and Controversy
While the incident has generated a groundswell of support for Archana Gautam, it has also stirred up controversy and divided opinions. Some individuals have chosen to blame Archana, citing her alleged political associations as a contributing factor to the incident.
These voices argue that she should bear responsibility for what transpired. On the other hand, there are those who empathize with Archana's ordeal and are demanding justice for her and her father.
The incident and subsequent press conference prompted an outpouring of comments and opinions from netizens. Many individuals expressed their solidarity with Archana Gautam and condemned the attack.
A user offered words of encouragement, writing, "Don't worry archana We love you JUSTICE FOR ARCHANA #ArchanaGautam."
Don't worry archana

We love you

JUSTICE FOR ARCHANA#ArchanaGautam https://t.co/0G2S12nrhX

— ꯱ׁׅ֒ꫀׁׅܻꪀׁׅᨵׁׅꭈׁׅꪱׁׅtׁׅɑׁׅ֮ (@senoritaxmor) October 2, 2023
Archana's Press Conference
Amidst the mounting discussions and debates, Archana Gautam held a press conference to shed light on her perspective of the incident. During this address, she explained that her visit to the political party office was intended to convey her congratulations for the "Women's Reservation Bill."
However, Archana recounted that she and her father were denied entry and subjected to mistreatment by certain women associated with the office. She further revealed that her father was also physically attacked during the ordeal.
Discover a wealth of information about:
More About Archana Gautam
Beyond this incident, Archana Gautam is a notable figure known for her participation in reality television. She gained recognition and popularity through her journey on Bigg Boss 16, where she showcased her resilience and character.
Currently, she is captivating audiences with her appearances on Khatron Ke Khiladi 13, a reality show known for its daring challenges and thrilling adventures.
As this story continues to unfold and gather attention, the support for Archana Gautam remains steadfast. Netizens are determined to ensure that justice is served, and her safety and well-being are protected. The incident serves as a reminder of the power of social media to unite individuals in support of a just cause.