Navi Mumbai Shocking Incident: Drunk Man Arrested for Raping Female Dog in Koparkhairane Caught on Camera by Police!!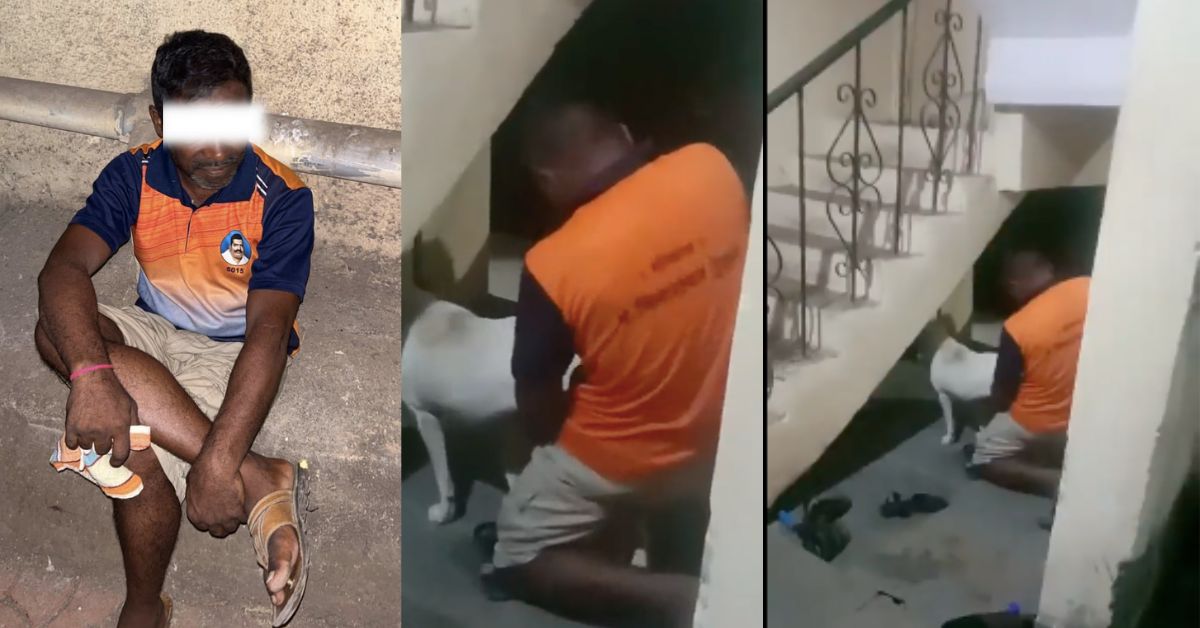 A shocking case of animal abuse has come to light in Navi Mumbai, India, where a 43-year-old man, Sanjay Kadam, was arrested on charges of engaging in s@xual abuse of a dog. The arrest happened on September 28th and raises questions not only about the cruelty meted out to animals but also about the implementation of laws designed to protect them.
The Arrest
On the afternoon of September 28, Sanjay Kadam, a laborer, was caught in the act of s@xually abusing a canine on the ground floor of a residential complex. The incident was reported by an activist who immediately filed a complaint. The authorities responded by arresting Kadam under Section 377 of the Indian Penal Code and the Prevention of Cruelty to Animals Act, of 1960. This incident serves as a grim reminder of the pervasive issue of animal abuse in India.
View this post on Instagram
Previous Incidents
Earlier, a video from Koparkhairane in Navi Mumbai had surfaced on social media, displaying Kadam committing a similar act against a female dog. Shockingly, this wasn't his first offense; local boys had previously caught him red-handed, and he managed to evade arrest. This time, the authorities were informed through an emergency 100 number, leading to his arrest.
Growing Concern Over Animal Abuse
This incident amplifies the growing concern over animal abuse in India. Data from the Federation of Indian Animal Protection Organizations (FIAPO) and All Creatures Great and Small indicates that between 2010 and 2020, there have been 82 reported cases of s@xual abuse against animals. The lack of comprehensive data from the National Crime Records Bureau (NCRB) makes it difficult to gauge the extent of the problem.
Legal Perspective
Bestiality as a Crime under Section 377
While the Supreme Court decriminalized homos@xuality in the landmark case of Navtej Singh Johar vs. Union of India Ministry of Law in 2018, it upheld the components of Section 377 that criminalize bestiality. The law stipulates severe penalties, including life imprisonment or imprisonment for up to ten years, along with fines.
Lack of Awareness
One of the significant challenges in combating animal abuse is the lack of awareness among law enforcement and the general public regarding the legal provisions against bestiality. The recent arrest has led to a public outcry for more stringent measures to be put in place and better education for those tasked with implementing these laws.
The arrest of Sanjay Kadam serves as a wake-up call for society and law enforcement alike. The need for rigorous legal frameworks, public awareness, and systematic data collection is urgent to protect the voiceless animals. This incident highlights the urgent need for action on multiple fronts to ensure that animals are accorded the protection they rightfully deserve.
Read more articles 
Watch The Video (Trigger Warning):
Note: The video contains visuals that may be disturbing for some viewers.
@MumbaiPolice @peta @animalcruelty @sudhirchaudhary @CpNavimumbai @aajtak

🆘🆘🆘🆘🆘🆘🆘
This sick man r@pes female dogs in Koparkhairane.
Last time some boys caught him red handed and took him to the police. The man was drunk.
But as usual police didn't help. pic.twitter.com/fD99j9u000

— Prakash(Piggy) (@piggy2487) October 26, 2023
The issue of animal abuse is multi-faceted, requiring immediate and collective action. Whether you are an activist, a citizen, or a lawmaker, it's high time to give voice to those who cannot speak for themselves and ensure that no other innocent life suffers.