Exploring the Vande Bharat Sleeper Version: A Glimpse into the Future of Train Travel!!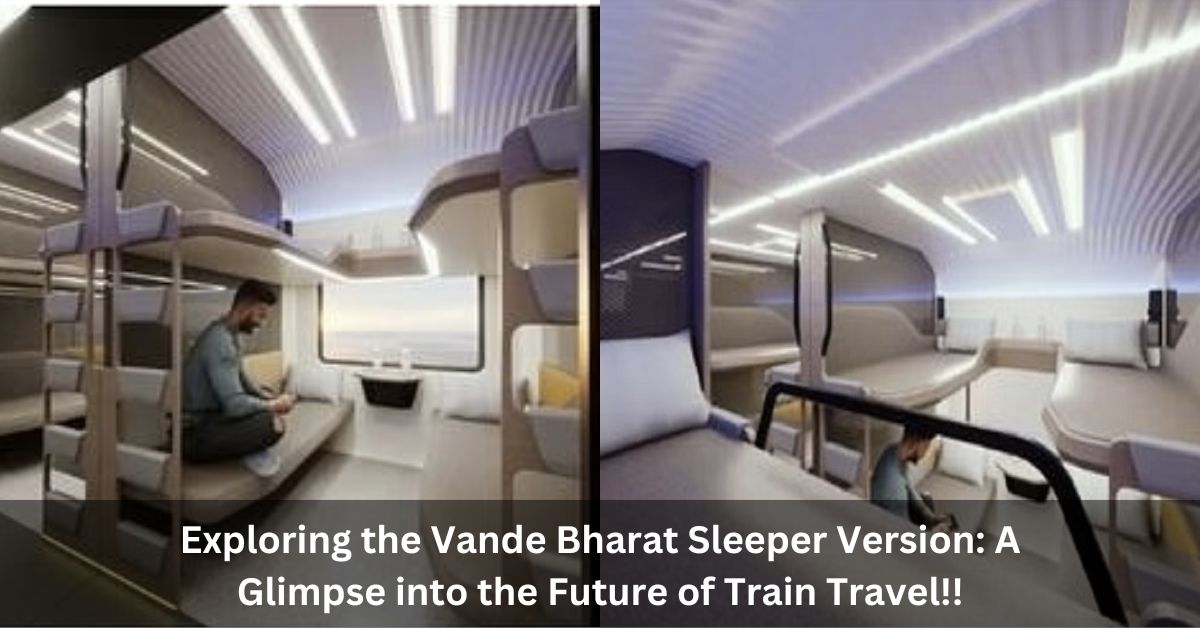 Are you ready to embark on a journey of innovation and comfort? Look no further than the Vande Bharat Sleeper Train, the latest marvel from Indian Railways. This semi-high-speed train is set to redefine your travel experience, offering unprecedented features and convenience.
All Aboard the Sleeper Vande Bharat Express
The Vande Bharat Sleeper Train is not your average locomotive. With the capability to reach speeds of up to 160 km/h, it promises a swift and comfortable journey for passengers. Let's dive into the details of this revolutionary train.
🚨 First Look of Vande Bharat Trains Sleeper Version. pic.twitter.com/LP19U2eAU0

— Indian Tech & Infra (@IndianTechGuide) October 1, 2023
Collaboration in Motion
The development of the Sleeper Vande Bharat is a testament to international collaboration. Two major players, Rail Vikas Nigam Limited (RVNL) and Russia's TMH Group, have joined forces to bring this project to life. This partnership ensures that the train combines the best of Indian and Russian engineering expertise.
Seamless Boarding with Automatic Doors
Say goodbye to the hassles of manual door handling. The Vande Bharat Sleeper Train boasts automatic doors that open and close with a simple press of a button. This innovation not only streamlines the boarding process but also caters to passengers with disabilities or those carrying heavy luggage. Convenience and accessibility are at the forefront of this design.
Stay Connected with Onboard Wi-Fi
In today's digital age, staying connected is paramount. The Vande Bharat Sleeper Train understands this need and offers onboard Wi-Fi connectivity. Passengers can now browse, work, or stay in touch with loved ones while enjoying a comfortable ride.
Information at Your Fingertips with LED Screens
Curious about your journey's progress? The train features state-of-the-art LED screens that provide real-time information about your trip. From the upcoming station to estimated arrival times, these screens keep you informed throughout your voyage.
Read more articles
Safety First with CCTV Surveillance
The well-being of passengers is a top priority. To ensure a safe and secure journey, the Vande Bharat Sleeper Train is equipped with CCTV cameras. These cameras offer continuous surveillance, providing peace of mind to all on board.
As we step into the future of train travel, the Vande Bharat Sleeper Train promises an unforgettable experience marked by speed, convenience, and innovation. Whether you're a frequent traveler or simply seeking a unique adventure, this train is set to cater to your every need.
In conclusion, the Vande Bharat Sleeper Train is a testament to progress in rail travel. With its collaborative development, automatic doors, onboard Wi-Fi, LED screens, and CCTV cameras, it offers a holistic travel experience that caters to modern-day passengers. Get ready to embrace the future of train travel with open arms and book your ticket on the Vande Bharat Sleeper Train today!