Kejriwal Asks Supreme Court for Help From NDRF, Army, Threat of Flood in Yamuna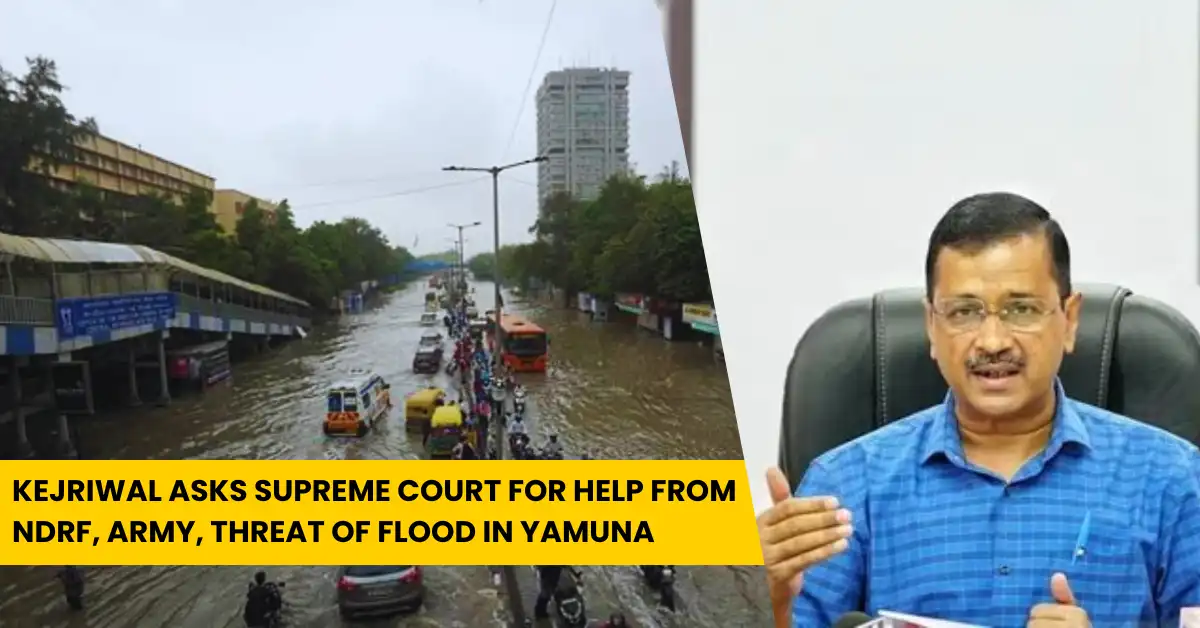 On Friday, Saurabh Bharadwaj, a minister for Delhi, claimed that a regulator for the Irrigation and Flood Control Department still had a leak allowing Yamuna River water to enter. The severe situation worsened when the regulator was damaged close to the Indraprastha bus terminal and the WHO Building on Drain No. 12.
Due to the broken regulator, floodwater from the Yamuna on Thursday night came dangerously close to the Supreme Court because of the potential for sewer backflow. Mathura Road and Bhagwan Das Road near the Supreme Court saw some flooding.
According to Kejriwal, the break creates floods in ITO and nearby areas. He wrote in a tweet, "I have directed the Chief Secretary to seek help of Army/NDRF but this shud be fixed urgently,"
This breach is causing flooding of ITO and surroundings. Engineers have been working whole nite. I have directed the Chief Secretary to seek help of Army/NDRF but this shud be fixed urgently https://t.co/O8R1lLAWXX

— Arvind Kejriwal (@ArvindKejriwal) July 14, 2023
Bharadwaj, the minister of irrigation and flood control in the Delhi government led by the AAP, hurried to the spot Thursday night to monitor the developing situation.
"On CM Arvind Kejriwal's instructions, Irrigation and Flood Control Minister Saurabh Bhardwaj is himself present on the spot as of now and is monitoring the whole situation himself. He is arranging for all possible resources that can be deployed to control the flow," according to a statement from the Delhi administration.
Backflow from Drain Causes Yamuna Floodwater to Approach Supreme Court Entrance:
#Yamuna flood water reaches near Supreme Court entrance due to backflow from a drain@htTweets #delhiflood pic.twitter.com/GLuRj5OdTI

— Alok K N Mishra HT (@AlokKNMishra) July 14, 2023
According to the most recent information, the water has already reached the entrance to the top court, despite the Yamuna River's water level dropping from its highest-ever recorded level of 208.66 meters at 8 p.m. last night to 208.44 meters at the Old Railway Bridge this morning.
For additional recent articles, please follow the link provided below:
In a tweet, Bharadwaj stated, "Our teams worked to fix the damage at regulator of drain no 12 near WHO building." "Still, the water of Yamuna is entering the city through this breach. The Govt has directed Chief Secretary to take it up on highest priority."
According to Bhardwaj, Kejriwal would also visit ITO at 11 a.m. to examine the drain regulator.