Kindred ending explained: There's a fascinating idea at the heart of the new FX drama series "Kindred," but the show's execution frequently leaves us wanting more. Based on the novel by Octavia Butler, the drama follows twenty-six-year-old Dana James as she is unexpectedly transported back in time, where slavery was the law of the land and her ancestors were slaves on a plantation. Kindred's supernatural and thriller aspects are exemplary, but the film falls flat due to its superficial handling of racial abuse in American history and its lack of impact.
'Kindred' Plot Summary: What Is The Series About?
Dana James, a want-to-be TV writer, relocates to Los Angeles in search of better employment prospects. Dana is just twenty-six years old, yet she has not found professional success. She is frequently unemployed and must rely heavily on the money left to her by her beloved grandmother.
Dana inherited her large Brooklyn home from her grandmother before she passed away, and she recently sold the property before relocating to Los Angeles. Here she buys a brand-new, quite large house, which is more than she needs now but represents a new beginning.
The woman's parents were killed in a car accident when she was a young girl, and her only living relatives are also based in Los Angeles. Dana's only remaining biological relatives are her aunt Denise and uncle Alan, both former police officers. Kindred ending explained.
You can also check 
Neither of them has done much to encourage Dana to visit them. Denise and Dana appear at odds because Denise's niece sold the house that had belonged to Denise's grandmother (Dana's mother).
Dana is not overly concerned about this and has decided to have little to no contact with her aunt. While working as a waitress, she meets a server called Kevin and develops feelings for him. Another, more disturbing change has occurred for Dana since she moved into her new home; at first, she thinks she is sleepwalking.
#Kindred drinking game: Take one shot every time Kevin is stunned by how terrible conditions were for black people and women, and how f'd up plantation owners were. pic.twitter.com/a8BbiUL3LX

— Besto Lifu 🗑🦝💕 (@BestoLifu) December 14, 2022
This is because the woman has been waking up in an unfamiliar portion of the new house while going to sleep in her bedroom. However, she quickly discovers the reason for her peculiar experience.
Occasionally, for no apparent reason, Dana is teleported back to the 1800s, where she encounters both her mother and grandmother. While this experience seems like a nightmare at first, the woman soon learns that it is a terrifyingly real journey back through time. As a result, Dana is currently investigating the origins of her problems and potential solutions. Kindred ending explained.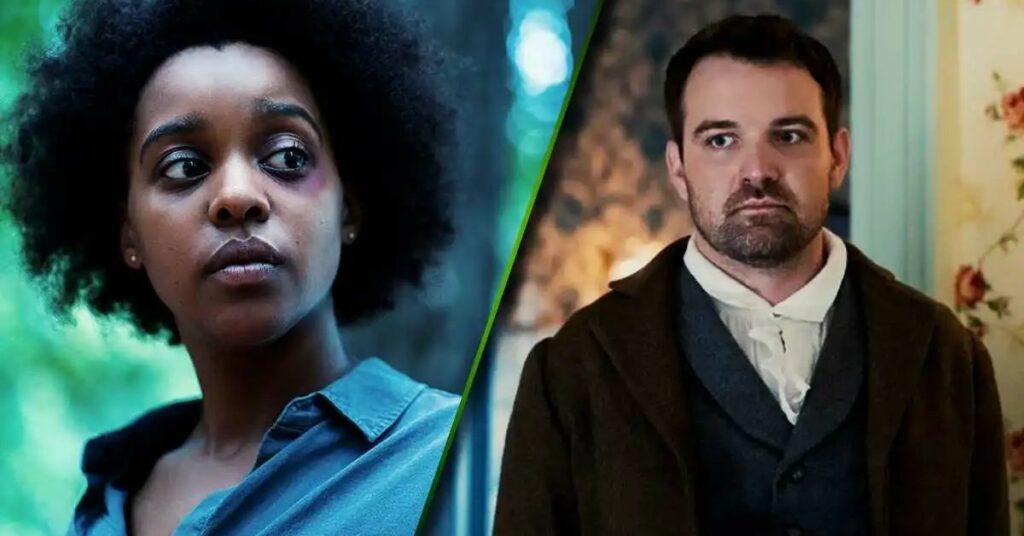 "Kindred Ending Explained" What Happens To Dana And Kevin?
Olivia hurriedly arrived at the property the following morning to rescue her daughter, but Sarah informed her that Dana had already fled the previous night. Though Sarah had tried to persuade Dana to leave, she had refused, maybe to avoid simultaneously losing track of both Dana and Carrie. Thomas, who overhears Sarah and Olivia talking, becomes concerned and, while making the rounds of the plantation, discovers Dana reading.
Since it was unlawful for Blacks to read at the time, Thomas is furious that Dana has disobeyed his repeated orders not to read or touch his books. And he can't believe it when Dana offers to teach him to read once she figures out that he can't read anything more complicated than a checkbook. After being insulted by this suggestion, Thomas pulls Dana through the courtyard and into the barn, mercilessly beating her with a whip. Kindred ending explained.
Her daughter's distress calls Olivia from the kitchen, where she immediately runs to help. In Dana's final moments before she dies, she pushes Thomas away, jumps atop her, and clutches her fiercely as she clings to life. The next thing she knows, she's back in the present, inside her brand-new LA home with no evidence of her mother.
You can also check 
She soaks in the tub to relieve the aches in her back before the cops show up in response to many complaints from her neighbors. Dana notifies her aunt that she has returned and takes care of the police, persuading them that everything is well at her home. Denise visits the following morning, and she trusts her niece. Denise listened to all this and then advised Dana to check the family bible to find out when the next ancestor would be born.
This would allow Dana to make plans to break the loop. After researching her paternal ancestry, Dana learns that she is not connected to Carrie. Alice had a child with Rufus, and that line eventually reached Dana. Season 1 of "Kindred" concludes here at a pivotal point that guarantees a second season will be made. Kindred ending explained.
I'm sorry but while I'm watching #Kindred all I can see is Jason Stackhouse pic.twitter.com/VnuuLWRwOy

— SimGuruAlvin | Santa's Helper 🎅🏿🧝🏽 (@thekxngalvin) December 16, 2022
Kevin is shown to be present in the past, while Dana, in a frenzy to prepare for her subsequent withdrawal to the past, is still present in the present. When Thomas showed up at Hagar's residence to inquire about Dana and Olivia, he informed the guy that Dana had reluctantly left him behind. Kevin is spotted again, this time with white hair, but he has not assumed the position of a bigoted slave owner even though only hours have elapsed in the present.
His teenage companion Alice is spotted accompanying him on a horseback ride. Alan, Denise's husband, currently phones her to tell her that the police have located Dana's mother, Olivia, at their home. It's proof positive that time travel occurred. Dana's potential return to Kevin and her plans to bring Alice and Rufus together so they can have a child are both left for a second-season reveal. Kindred ending explained.
Final Lines  
I hope you found the information valuable; share your views with us in our comment section, and don't forget to visit our Digi Hind News.com for future updates and Celebrity News.