Campus Clash: OP Jindal University Lecture Sparks Controversy Over Israel-Palestine Conflict!
Apart from Islamists, antisemitism among left-liberals has surged globally as Israel persists in its military campaign against Hamas in Gaza in retaliation for the horrifying terror assault on October 7. Such overt anti-Semitic and anti-Hindu sentiment was on show during an OP Jindal Global University lecture. Everything that has been said at the talk hosted by OP Jindal Global University will be covered in detail in this article.
OP Jindal University Lecture On Israel-Palestine Conflict Creates Rifts
Professor Achin Vanaik, a retired professor of international relations and the former head of the political science department at the University of Delhi who is currently an activist, gave a lecture titled "The History and Politics of the Palestinian Present" on November 1 at the university. In the lecture, venom was spewed against RSS, Hindutva and the Indian Army:
हमास के समर्थन में O P Jindal यूनिवर्सिटी।

फलीस्तीन सॉलिडेरिटी कमिटी से जुड़े प्रोफेसर को बुलाकर कराया सेमिनार।

सेमिनार में RSS और हिंदुत्व और इंडियन आर्मी के खिलाफ उगले गए जहर। pic.twitter.com/YP2k6p66YP

— Panchjanya (@epanchjanya) November 2, 2023
Several video clips from the professor's talk have surfaced, demonstrating that he made several antisemitic and anti-Hindu remarks in the name of sympathy with Palestinian civilians in Gaza. He also criticized the Modi administration for India's stance in the war.
The lecturer continued with several anti-Hindu and anti-Hindutva remarks, even though the topic was in the context of the ongoing Israel-Hamas war and the title of the event was "The History and Politics of the Palestinian Present." He asserted that whereas Jews are not naturally anti-Islamic, Hindus are.
Professor Achin Vanaik stated in his talk that while Zionism and Hinduism share many similarities, their relationships to Islam are not the same. "Zionism is not anti-Muslim, it is anti-Palestinian, but it is happy to piggyback on current Islamophobia. Hindutva is fundamentally and foundationally anti-Muslim."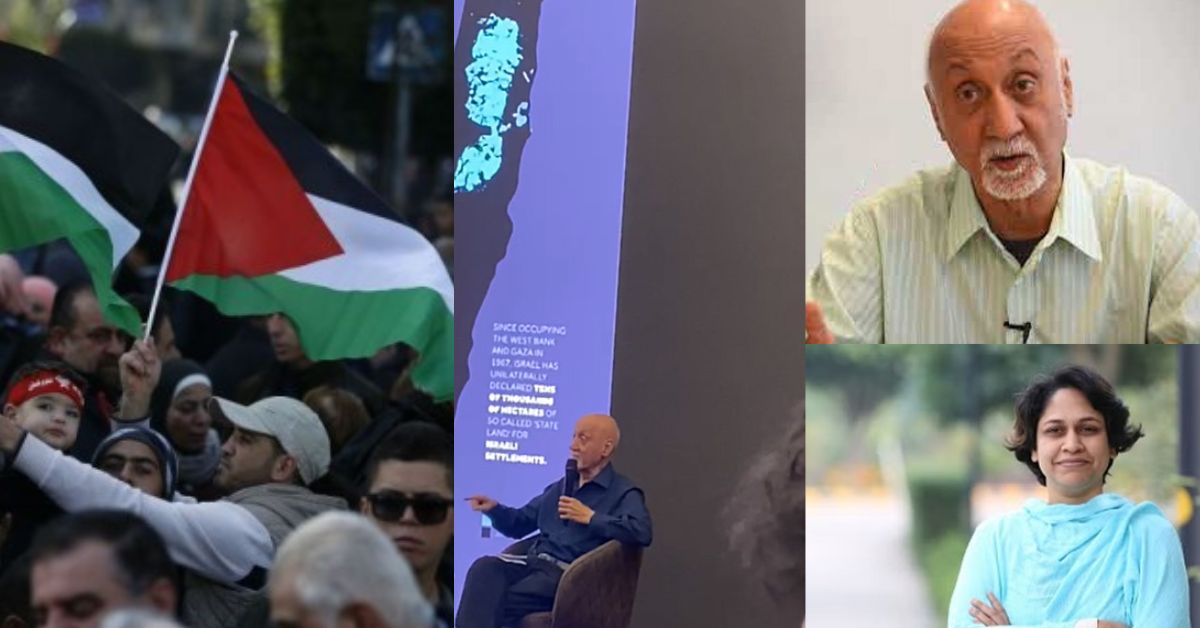 Additionally, he asserted that it is incorrect to say that Hindus are the original residents of India and that Hinduism is one of the oldest civilizations. The professor asserted, "You now have to desperately talk about the Saraswati Valley Civilization because archaeological and scientific evidence shows that Vedic civilisations are much older than the emergence of Vedas by around 2000 years."
There isn't a full video of the talk online, but one of the clips makes it look like he was calling Israel's actions against Hamas "terrorism." Using the Pulwama terror incident as an example, he asserted that whereas some attacks of a similar nature are not classified as terrorist acts, others are. He was alluding to Israel's campaign in Gaza against Hamas.
Former Professor And Activist Called Israel An Occupier
The Ex-professor has referred to Israel as an "occupier" in pieces he has written about the Israel-Hamas war, even though Hamas has total authority over the Gaza Strip and Israel does not. Additionally, he attempts to characterize Israel's military campaign against Hamas as terrorism.
Look at the most recent news here:
"How is it that Israel can get away, both before and after the Hamas assault, with its assaults on civilians not being widely recognised at home and abroad as terrorism?" the writer asked in an article published on The Wire, even though the October 7 attack was a terror strike because people were massacred.
Dhruv Wadhwa, who is a BJP worker said with respect to the lecture, "the academic sphere, which is intended to serve as a secure environment, is sometimes utilised to promote cultural Marxist ideologies and anti Hindu narratives with the aim of destabilising Bharat and negatively influencing the youth by these kind of activists."
OP Jindal Global University today organised an event in support of Hamas (a terrorist organisation ) and targeted Indian Army, Hindu Culture, Hinduism, Hindutva, RSS and BJP.

Achin Vanaik a retired Professor of Delhi University and activist associated with Pelestine Solidarity… pic.twitter.com/B45NizRsoU

— Dhruv Wadhwa (@dhruvwadhwa) November 1, 2023
Regarding his lecture at OP Jindal Global University, an astonishing email surfaced in which an institute professor was heard disparaging Hindus. Professor Dr Sameena Dalwai of Jindal Global Law School wrote an email to those who were against Professor Achin Vanaik's talk, which was delivered in an antisemitic and anti-Hindu manner.
Professor Dalwai objects to the discussion in the email, claiming that it "will expand the limited understanding of politics and narrow view of suffering that your email exhibits." However, before objecting, he asks to attend the talk.
Dr Sameena Dalwai asserted that all of the information was fake news by Indian troll armies and that Hamas had committed no crimes against Israeli citizens. She wrote, "India's response has been sad. Fake news of Hamas atrocity is created by Indian troll armies. We know their power- many of us get trolled regularly for our writing."
For more recent and fascinating news, check out Digi Hind News where we post new information regularly.