Peyush Bansal Net Worth: How Much is the Lenskart Founder Worth?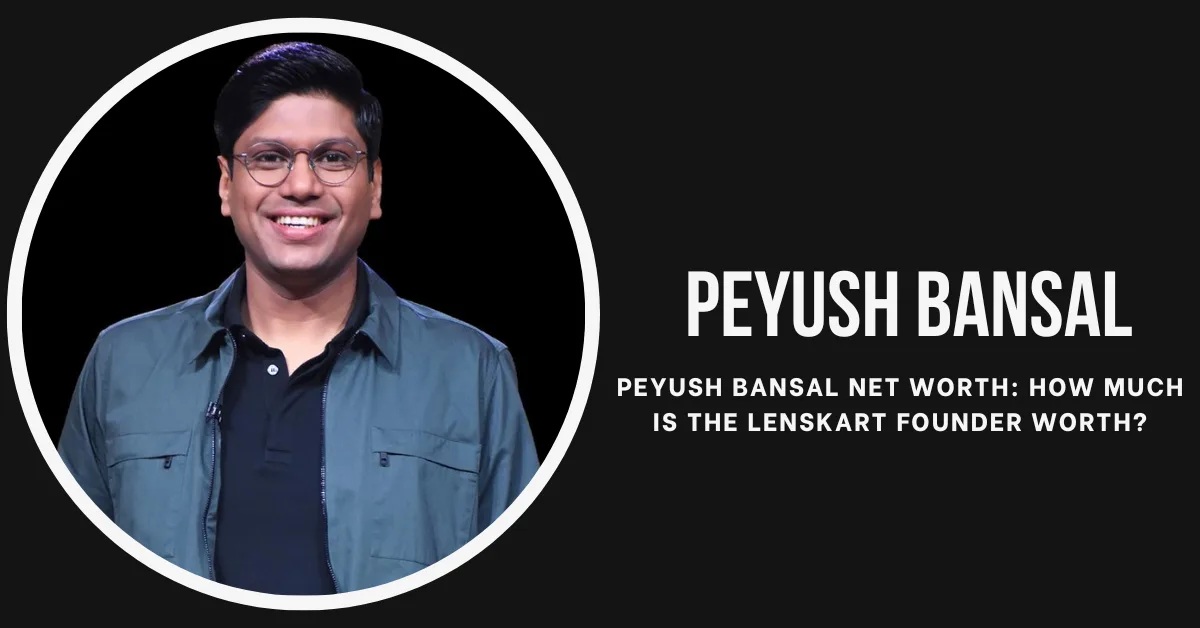 Peyush Bansal is an Indian entrepreneur, business executive, and angel investor. He is the co-founder and CEO of Lenskart, an Indian multinational optical prescription eyewear retail chain, based in Gurugram. He is also a judge on the show Shark Tank India. In this article, we will answer some of the most common questions about his journey, achievements, and net worth.
How Did Peyush Bansal Start His Career and Education?
Peyush Bansal was born on 25 February 1985 in New Delhi. His father, Bal Kishan Bansal, was a businessman, and his mother, Kiran Bansal, was a homemaker. He has an elder brother and a sister. He attended Don Bosco School in New Delhi and was interested in science and technology from a young age. He participated in various science fairs and competitions and won several awards.
He went on to pursue a degree in Electrical Engineering from McGill University in Montreal, Canada from 2002 to 2006. There he developed his interest in entrepreneurship and innovation. He also worked as a teaching assistant and a research assistant during his studies.
After graduating from McGill University, he joined Microsoft as a Program Manager in Redmond, Washington in 2007. There he worked on improving customer experience for various products and services. However, he soon realized that he wanted to do something more challenging and impactful. He decided to quit his job and return to India to start his own venture.
What Were Peyush Bansal's First Ventures Before Lenskart?
Peyush Bansal started his entrepreneurial journey in 2007 with SearchMyCampus.com, a campus classifieds portal that provided various services to college students such as accommodation, internships, transportation, books, and part-time jobs. The portal was fairly successful and gained traction among the student community.
In 2008, he enrolled himself in the Management Programme for Entrepreneurs and Family Businesses (MPEFB) at the Indian Institute of Management (IIM), Bangalore. There he met Amit Chaudhary, who became his co-founder and friend.
They also launched another venture called Flyer, which was a platform for sending personalized greeting cards to friends and family. The venture received positive feedback from the customers but failed to scale up due to operational issues.
How Did Peyush Bansal Come Up With The Idea of Lenskart And How Did He Grow It?
In 2010, Peyush Bansal and Amit Chaudhary came up with the idea of Lenskart, an online platform for selling eyewear products such as contact lenses, eyeglasses, and sunglasses. They were joined by Sumeet Kapahi, who had experience in the eyewear industry. They started Lenskart with an initial investment of Rs 25 lakh from their own savings and borrowed money from their friends and family.
Lenskart faced many challenges in the beginning such as low awareness, low trust, high logistics costs, and lack of inventory. They also had to compete with established offline players who had a strong presence in the market. However, they did not give up and focused on providing quality products, affordable prices, convenient delivery, and excellent customer service.
"We are sorry!" Amit Chaudhary and Peyush Bansal are the co-founders of Lenskart:
"We are sorry!" Peyush Bansal & Amit Chaudhary, co-founders, Lenskart – Note: http://t.co/2PFCS6eGn3 pic.twitter.com/6JlSrI3yEo

— lenskart (@Lenskart_com) April 25, 2015
They also introduced innovative features such as a home eye check-up service, virtual try-on tool, 3D try-on app, free home trial service, and Lenskart Blue lenses that protect the eyes from harmful blue light emitted by digital devices. They also expanded their product range to include premium brands such as Ray-Ban, Oakley, Vogue, and John Jacobs.
Lenskart gradually gained popularity among customers and attracted investors such as IDG Ventures India, Unilazer Ventures, TPG Growth, Premji Invest, IFC, and SoftBank Vision Fund. Lenskart also acquired several companies such as Lens2Home, 3DPhy, Ditto, and ThinOptics to enhance its capabilities and offerings.
Lenskart also ventured into offline retail by opening its first store in Delhi in 2014. Since then, it has opened more than 600 stores across the country as well as in Singapore and Dubai. Lenskart aims to become the largest eyewear retailer in the world by opening 10,000 stores globally by 2025.
We've previously written a few pieces regarding the wealth of famous celebrities. Visit the links provided below to learn more:
What is Peyush Bansal's Net Worth?
According to some estimates, Peyush Bansal's net worth in 2023 is around $120 million (approximately Rs 900 crore), while other sources estimate it to be around $80 million (approximately Rs 600 crore). A huge chunk of his income comes from Lenskart, which was valued at $4.5 billion in 2021 after receiving new investments from Temasek Holdings and Falcon Edge Capital.
Bansal has also invested in other firms like vivaLyf, Ario, Loka Foods, and Annie. He also owns stakes in InFeedo and Daily Objects. He reportedly charges Rs 7 lakh per episode for judging Shark Tank India.
Sources of Income
Peyush Bansal's main source of income is his stake in Lenskart, which he co-founded in 2010 along with Amit Chaudhary and Sumeet Kapahi. He owns around 30% of the company's shares, which makes him the largest shareholder. Lenskart's revenue was reported to be Rs 963 crore ($131 million) in the financial year 2020-21, up from Rs 638 crore ($87 million) in the previous year.
The company also turned profitable for the first time in FY21, with a net profit of Rs 28 crore ($3.8 million). Apart from Lenskart, Peyush Bansal also earns money from his other ventures and investments. He co-founded eyewear startups like John Jacobs (2015), Aqualens (2019), Lenskart Plus (2020), and Lenskart Vision Fund (2020).
These all were funded by Lenskart. He also invested in other startups like Zetwerk, Bira91, Shiprocket, Stanza Living, and Urban Company. He is also a jury member in 'Shark Tank India,' the Indian adaptation of the American business reality TV show 'Shark Tank,' where he offers funding and mentorship to aspiring entrepreneurs.