Pro-Khalistan Supporters Protest in Toronto, Face Counter-Protest by Indian Community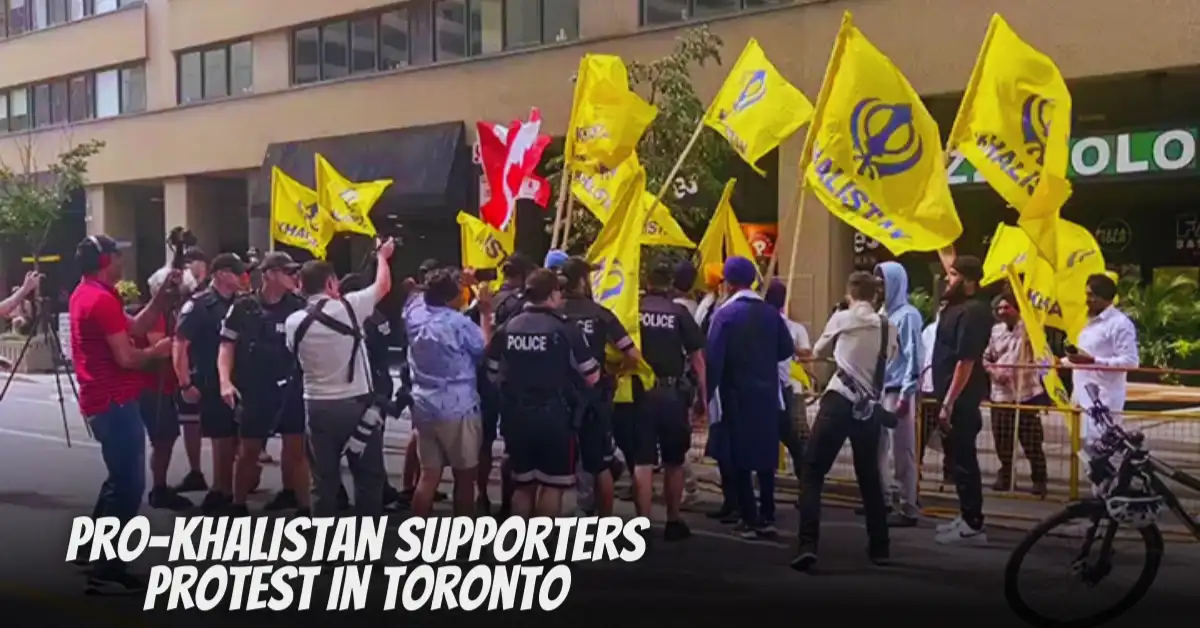 A group of pro-Khalistan supporters staged a protest in front of the Indian consulate in Toronto, Canada, on Saturday, demanding a separate state for Sikhs in India. The protest was backed by the secessionist group Sikhs for Justice (SFJ), which had circulated posters threatening the Indian diplomats and accusing them of being involved in the killing of SFJ leader Hardeep Singh Nijjar, who was shot dead in Surrey, British Columbia, on June 18.
Indian Community Waves Tri-colour, Counters Pro-Khalistan Protesters: The pro-Khalistan protest was met with a counter-protest by the members of the Indian community, who waved the tri-color and held banners stating "Khalistanis are no Sikhs", "Khalistan murdabad" and "Bharat Mata ki jai".
The pro-India demonstrators said they were there to express solidarity with India and Canada and to protect their diplomats and the consulate office from the violent threats of the Khalistani supporters.
Indian Consulate in Toronto Faces Pro-Khalistan Protests on July 8th:-
#WATCH | Pro-Khalistan supporters protested in front of the Indian consulate in Canada's Toronto on July 8

Members of the Indian community with national flags countered the Khalistani protesters outside the Indian consulate in Toronto pic.twitter.com/IF5LUisVME

— ANI (@ANI) July 9, 2023
The two sides were separated by the Toronto Police personnel, who erected barricades and blocked the traffic on Bloor Street, where the consulate building is located. The standoff lasted for three hours and was largely peaceful, except for some attempts by the pro-Khalistan protesters to breach the barricade and storm the pro-India contingent.
The police apprehended two protesters for allegedly assaulting a police officer on duty and trying to attack the pro-India gathering. However, they were released later without charges.
Pro-Khalistan Rallies Held in Other Countries: The pro-Khalistan rally in Toronto was part of a series of rallies planned by SFJ in various countries, including the UK, the US, and Australia, to protest against the killing of Nijjar and to promote their so-called Punjab Referendum campaign for a separate Khalistan state.
The SFJ is a banned organization in India and has been designated a terrorist entity by the Indian government. However, the pro-Khalistan rally in London was low-key, as only a small group of protesters turned up outside the Indian High Commission in London.
Check out some other new content we've published:
The protesters were seen using controversial posters inciting violence with images of the Indian High Commissioner Vikram Doraiswami and Dr. Shashank Vikram, Consul General of India, in Birmingham. The London Metropolitan Police deployed a strong force to ensure peace throughout the protest, which ended sooner than expected.
Earlier this week, the UK government had declared that any direct attacks on the Indian High Commission in London are unacceptable amid the anti-India attacks and posters by Khalistani extremists emerging on social media channels. Foreign Secretary of the United Kingdom James Cleverly had said: "Any direct attacks on the Indian High Commission in London are completely unacceptable."