Up News: Amu Students Came Out in Support of Palestine, Took Out a Foot March and Raised Slogans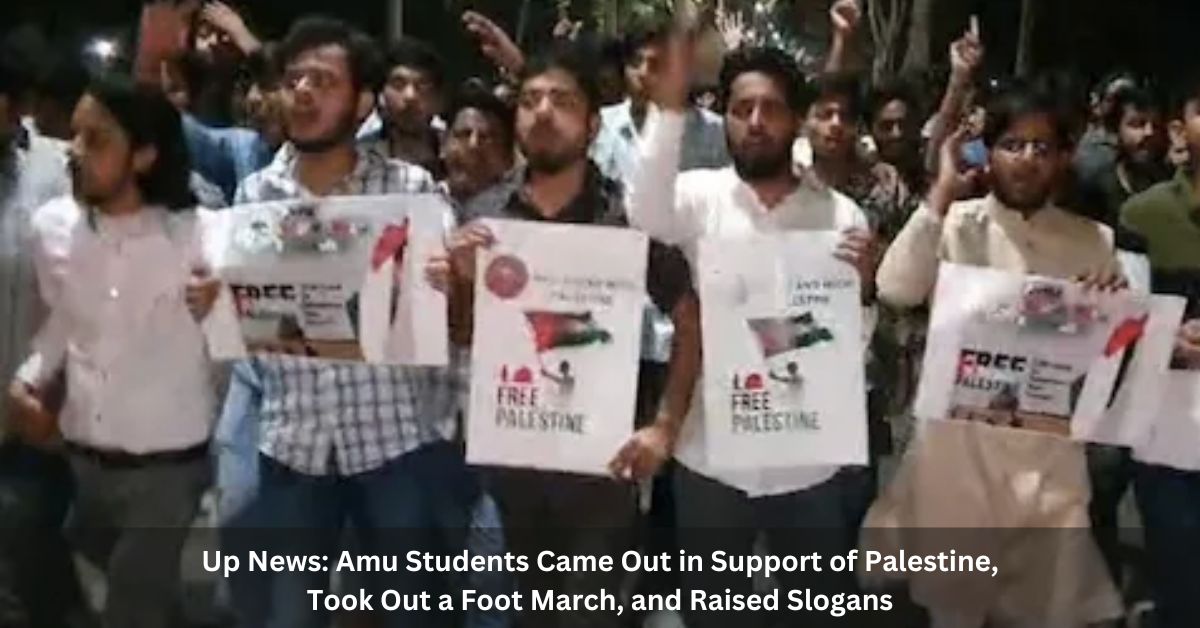 In light of the ongoing conflict between Israel and Palestine, students from Aligarh Muslim University (AMU) manifested their solidarity with Palestine through a foot march within the campus premises. This demonstration comes at a significant time, especially in the context of Indian Prime Minister Narendra Modi's expressed support for Israel. The contrasting political stance taken by the students highlights a broader discussion surrounding the Israel-Palestine conflict within India.
Protest March
Taking a stand against the alleged atrocities committed in Palestine, students of AMU organized a protest march. Commencing from Dak Point and concluding at Babe Syed Gate, the march was led with a spirit of condemnation for the unfair treatment of Palestinian civilians over the past 70 years. The students vocalized their distress over the reported brutalities faced by the individuals in Palestine, especially women and the elderly.
अलीगढ़ मुस्लिम यूनिवर्सिटी में फिलिस्तीन के समर्थन में सैकड़ों छात्रों ने विरोध प्रदर्शन किया. इस दौरान छात्रों ने नारे लगाए और पैदल मार्च निकाला. छात्रों ने अपने हाथों में वी स्टैंड फिलिस्तीन, एएमयू स्टैंड विद फिलिस्तीन जैसे पोस्टर-बैनरों को हाथों में लेकर प्रदर्शन किया.

अलीगढ़… pic.twitter.com/ttVX9pmlbE

— Deepak Chaurasia (@DChaurasia2312) October 9, 2023
अलीगढ़ मुस्लिम यूनिवर्सिटी :#हमास आतंकियों के समर्थन ने उतारे अलीगढ़ मुस्लिम यूनिवर्सिटी के छात्र
*ये वही यूनिवर्सिटी है, जहां जिन्ना का पोस्टर लगा है
*ये वही यूनिवर्सिटी है 2018 में जहां के एक कार्यक्रम में भारत के नक्शे से कश्मीर काट दिया गया था और अरुणाचल को चीन का हिस्सा… pic.twitter.com/fzqLwibLuB

— Ashok Shrivastav (@AshokShrivasta6) October 9, 2023
Students' Stance
The protest served as a platform for the students to demand an immediate cessation of attacks on Palestine, emphasizing the humanitarian aspect of the conflict. Student leaders voiced their concern over the continuous attacks, urging for a more compassionate approach toward the people living in the region. They expressed a firm demand for halting the attacks promptly to alleviate the suffering of the Palestinian populace.
Read more articles
Slogans and Symbolism
During the demonstration, the rallying cry of "Allah-Hu-Akbar" resonated through the campus, symbolizing the students' collective call for justice and a peaceful resolution to the conflict. This act of solidarity reflects a larger discourse concerning the Israel-Palestine conflict and the varying opinions within different factions of Indian society.
The demonstration by AMU students brings to light the diverse political and humanitarian perspectives that prevail within India regarding the Israel-Palestine conflict. As young voices join the global dialogue on this contentious issue, the march symbolizes a call for peace and justice, transcending beyond the boundaries of the university campus.