Hamas Infiltration: Shocking Developments in Israel Launches "Operation Iron Swords"!!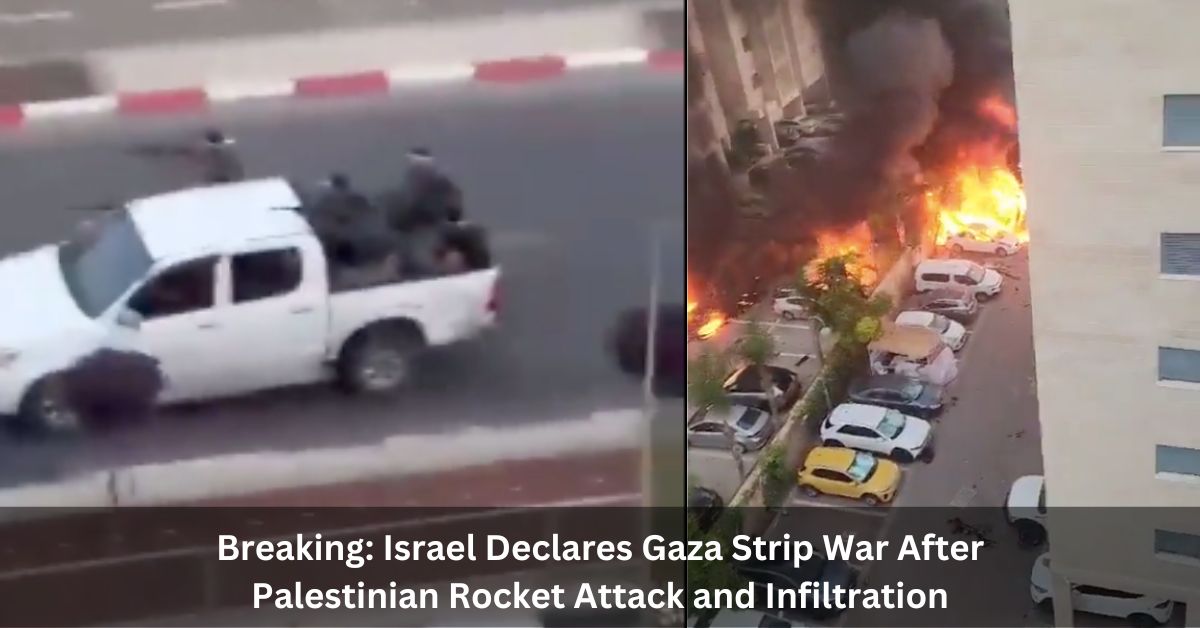 In a shocking turn of events, Hamas-Palestinian militants launched a devastating attack on Israel, leaving the nation in turmoil. The incident has been captured in a distressing video that has surfaced on the internet. Let's delve into the details of this unsettling situation.
The Attack Unveiled
The video footage reveals the militants rampaging through the streets of Israel, perpetrating acts of violence against innocent civilians. They not only took lives but also captured individuals, holding them as hostages and taking them to Gaza Strip. Reports suggest that approximately 5,000 missiles were fired from Gaza towards Southern Israel, resulting in at least one reported fatality.
#WATCH | Gaza: Rocket barrages launched towards Israel from Gaza

The Palestinian Islamist movement Hamas launched an attack on Israel in a surprise assault that combined gunmen crossing the border with a heavy barrage of rockets fired from the Gaza Strip, reports Reuters

(Video… pic.twitter.com/pk8q2Byvl1

— ANI (@ANI) October 7, 2023
A Disturbing Display of Joy
What's even more disturbing is the reaction of Hamas leadership, including Chief Ismail Haniyeh and Saleh al-Arouri, as they watched these horrific incidents unfold. The video captures them expressing joy over the Israeli casualties and even shows them performing Sajdah Shukr (Thanking God) in response to the mayhem on Israeli streets.
Hamas chief Ismail Haniyeh, Saleh al-Arouri, and other members of the group's leadership feign surprise at tv clips showing the large-scale assault on southern Israel. pic.twitter.com/b04DW9uniM

— Joe Truzman (@JoeTruzman) October 7, 2023
Hamas Claims Responsibility
Hamas has boldly claimed responsibility for these reprehensible attacks on Israel. An estimated 50-60 militants reportedly infiltrated Israel by exploiting missile cover. Once within Israeli borders, they wreaked havoc, taking innocent lives and holding civilians captive.
⚠️ DISTURBING VISUALS: 😡

Israeli woman soldier killed and paraded naked by Palestinians.💔#Israel #Hamas #Palestinian pic.twitter.com/ImgwFWBM6v

— Dr. Syed Rizwan Ahmed (@Dr_RizwanAhmed) October 7, 2023
WARNING GRAPHIC: Palestinians strip the corpse of an Israeli woman, put it on display and desecrate it while shouting 'Allah Akbar'.
Hamas and Israel are now at war. pic.twitter.com/qa1di87ac7

— Paul Golding (@GoldingBF) October 7, 2023
Israel's Response
In response to these grave attacks, the Israeli Army initiated 'Operation Iron Swords' against Hamas in the Gaza Strip, as reported by Al Jazeera. This operation follows a massive infiltration attempt by Hamas, involving nearly 5,000 rockets and armed men targeting the Israeli population.
The Israel Defense Forces (IDF) declared a state of readiness for war in the wake of the rocket barrage from Gaza and the infiltration of Hamas terrorists. "There has been widespread rocket fire into Israeli territory from Gaza, and terrorists have infiltrated Israeli territory through various entry points," the IDF stated.
Netanyahu: We are at war. Hamas will pay an unprecedented price.

ALL PUBLIC BOMB SHELTERS IN ISRAEL ARE BEING OPENED pic.twitter.com/A1VNcml0HU

— Megh Updates 🚨™ (@MeghUpdates) October 7, 2023
Retaliatory Measures
Simultaneously, the Israel Defense Forces launched retaliatory airstrikes in the Gaza Strip, responding swiftly to the surprise attack by Hamas.
Israel announces 'Operation Iron Swords.'

And it begins! Israeli air force is bombing targets in Gaza, Palestine

INDIA STANDS WITH ISRAEL! pic.twitter.com/JjzeSrEaAJ

— BALA (@erbmjha) October 7, 2023
Dozens of fighter jets of the Israeli Air Force are now attacking targets of the terrorist organization Hamas in the Gaza Strip in several locations, tweets Israeli Air Force pic.twitter.com/O9pktYOUJL

— ANI (@ANI) October 7, 2023
IDF's Strong Message
The IDF, in a statement, made it clear that Hamas would bear the consequences and responsibility for these events. Chief of Staff, Lt Gen Herzi Halevi, is actively assessing and approving plans of action to counter the threat posed by Hamas.
Casualties and Injuries
The rocket onslaught resulted in severe casualties and injuries. In Jerusalem, rockets struck, resulting in casualties. Tragically, one woman in her 60s lost her life in a rocket attack. Magen David Adom reported treating numerous injured individuals, including those in critical, moderate, and minor condition.
#WATCH | Jerusalem, Israel: Sirens heard in Jerusalem after a barrage of rockets from Gaza.

(Source: Reuters) pic.twitter.com/qqMDeCb15m

— ANI (@ANI) October 7, 2023
Read more articles
A Call to Action
With the situation escalating, Defense Minister Yoav Gallant authorized a widescale call-up of reservists to address the security challenges posed by Hamas's surprise attack on Israel.
These distressing events in Israel serve as a reminder of the importance of peace and stability in the region. The international community watches closely as tensions rise, hoping for a peaceful resolution to this crisis.