How Has Hema Malini Family Supported Her In Her Bollywood Career?
Hema Malini is a well-known Bollywood actress, movie producer, and Indian politician who was born on October 16, 1948. Her work in Hindi films is what is most well-recognized about her.
She initially became known as the "Dream Girl," and in 1977, she had an appearance in a movie of the same name.  She is one of the most well-known leading ladies in Bollywood. We will explore Hema Malini's family in this article. So, scroll down.
Hema Malini's Family
Hema Malini was born into a Hindu family that spoke Tamil. In the South Indian cinema industry, Jaya Lakshmi Chakravarti, her mother, produced movies. VSR Chakravarti was the name of her father. She is the younger of her two brothers, R.K. and R.J. Chakravarti, who are both producers of motion pictures.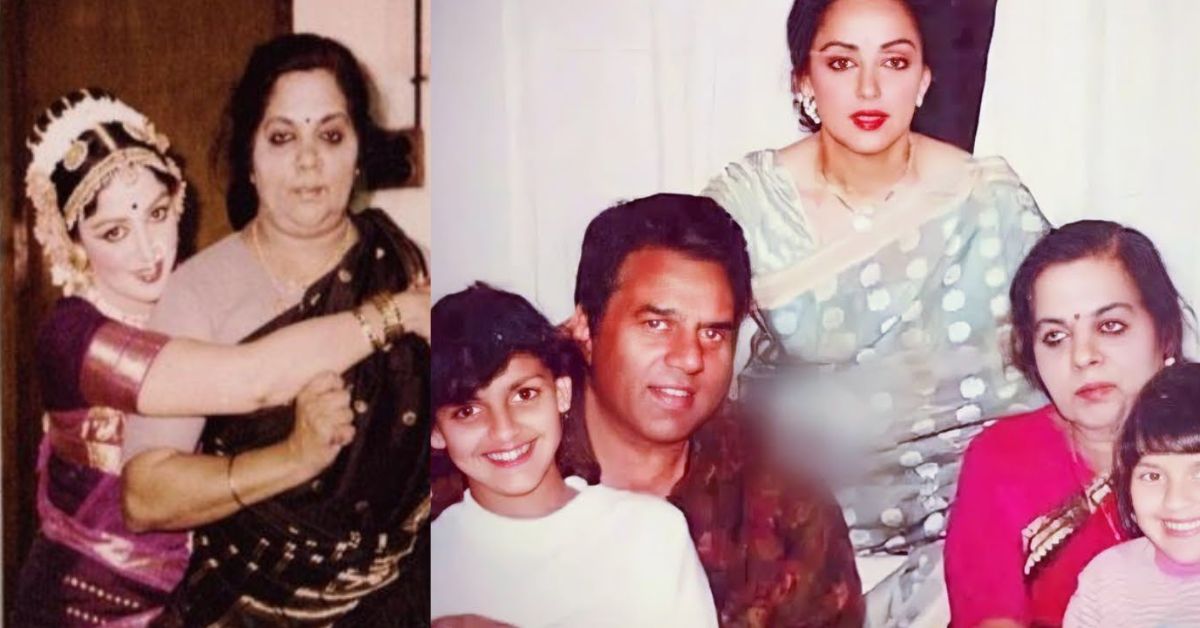 The Bollywood actor Sanjeev Kumar was mesmerized by Hema's attractiveness and asked her to marry him, but she declined. Later, she started an affair with her co-star Jeetendra; however, it did not continue long and eventually came to a stop.
Hema Malini became drawn to Dharmendra while they were co-stars in the hugely successful movie Sholay. After discussing their sentiments with one another, the couple decided to get married. Dharmendra was already wed to Prakash Kaur at the time, and Hindu customs required him to wait to wed Hema until he had divorced his first spouse.
However, his wife was not prepared to leave him. In the end, Hema Malini and Dharmendra wed on May 2, 1980, after Hema Malini converted to Islam. Esha Deol, an actress, and Ahana Deol are the daughters of the couple. Sunny Deol and Bobby Deol, two well-known Bollywood actors, are her stepsons.
Hema Malini recently tweeted a picture of her family on her official Twitter account.
The family on my birthday pic.twitter.com/9lw0qfhgYT

— Hema Malini (@dreamgirlhema) October 18, 2023
Early Years Of Hema Malini
Hema Malini attended Andhra Mahila Sabha in Chennai, where history was her favorite subject. She completed her eleventh grade at D.T.E.A. Mandir Marg before starting her acting career. Her mother, a movie producer, encouraged her to pursue acting.
Delve deeper into the lives of: 
Malini, on the other hand, struggled to become a well-liked actress in South Indian movies. She did, however, carry on dancing professionally. When "Idhu Sathiyam," her debut Tamil film, was released in 1963, she played a supporting actress. She was chosen to play the lead role in the 1968 Hindi film "Sapno Ka Saudagar."
Hema Malini And Dharmendra Living Apart!!
Although Hema Malini and Dharmendra have been married for a while, they live in separate homes. Hema recently talked about her happiness about living apart from her husband in an interview.
Esha and Ahana Deol are the couple's two daughters and Hema and Dharmendra have been wed since 1980. Dharmendra had four kids from previous marriages before he wed Hema.
Hema said, "Symbol of feminism? (laughs)" when the interviewer explained that one of the reasons she is regarded as a feminist icon is that she lived in her own home. "Nobody wants to be like that; it happens. Automatically, what happens, you have to accept. Otherwise, nobody will feel like they want to live their life like this. No! Every woman wants to have a husband and children, like a normal family. But somewhere, it went out of the way."
Here is an official tweet that states that Hema Malini is not feeling bad about living separately from Dharmendra.
"Not Feeling Bad": Hema Malini On Living Separately From Dharmendra https://t.co/ARWurhhJe8 pic.twitter.com/AsNbfYj7n4

— Adv. Debabrato (@debabrato1) July 12, 2023
She continued, "I am not feeling bad about it or sulking about it. I am happy with myself. I have my two children, and I have brought them up very well. Of course, he (Dharmendra) was there, always. Everywhere. Actually, he was the one worried, 'Shaadi hona chaiye bachchon ka jaldi' (The kids should get married early). I said 'Hoga' (It'll happen). When the time is right, the right person will come around. With the blessings of god and Guru Ma, everything happened."
This is the only information that is available about Hema Malini's family. As soon as fresh information becomes available, we will update this page. Visit our page, Digi Hind News, in the meantime.