WATCH: Indian Woman Anju Marries Pakistani Lover After Converting To Islam, Becomes Fatima
Anju, a mother of two from India who entered Pakistan legally, converted to Islam and married a Facebook friend from Pakistan on Tuesday, according to a top police official in Peshawar.
As she traveled through Pakistan, Anju, 34, stayed with her buddy Nasrullah, 29. In 2019, they connected as Facebook friends. The ceremony occurred in front of a district and sessions judge in the couple's hometown.
According to Muhammad Wahab, a senior officer at the Moharrar City Police Station in the Upper Dir district, "Nasrullah and Anju's marriage was solemnized today, and proper a Nikah was performed after she converted to Islam."
According to the authorities, they both showed up at the Dir Bala district court with members of Nasrullah's family, police officers, and lawyers.
Anju and Nasrullah's nikkah was certified by Deputy Inspector General Nasir Mehmood Satti of the Malakand Division, who revealed that the Indian woman had adopted the Muslim name, Fatima.
The cops guarded the move of the Indian woman to her husband's residence.
He added that the Indian woman had been transferred to her home from the court under police protection, as reported by Geo News. Nasrullah and Anju went on a city tour Monday morning, accompanied by armed guards. They went to the Lawari tunnel that links Dir Upper District and Chitral District, according to the police.
Pictures of Anju and Nasrullah in attractive tourist places show the couple sitting in a verdant garden together.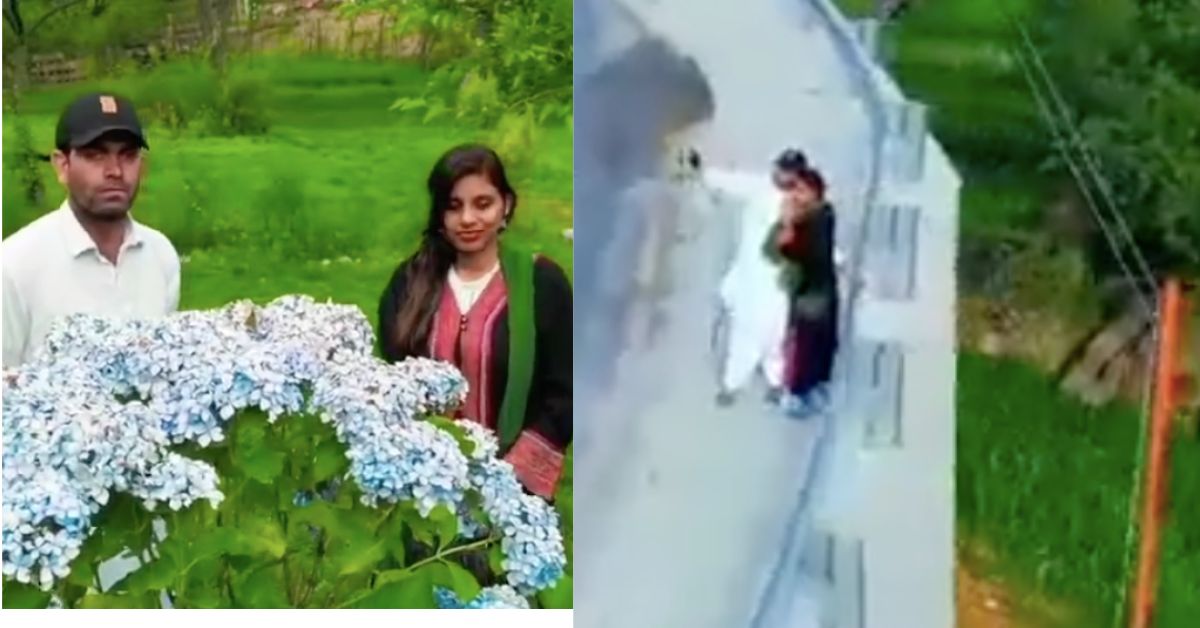 According to a Geo News report from Tuesday, a woman named Anju, originally from the Indian states of Uttar Pradesh and Rajasthan's Alwar district, has posted a video online claiming that she "feels safe here" in Pakistan.
دونوں کا نکاح ڈسٹرکٹ اینڈ سیشن جج کی عدالت میں ہوا جس کے بعد بھارتی خاتون کو پولیس کی نگرانی میں عدالت سےگھر منتقل کردیا گیا ہے۔
مزید پڑھیں:https://t.co/DgbwjG8kiI pic.twitter.com/N4C3TTxyEg

— Geo News Urdu (@geonews_urdu) July 25, 2023
She wanted to send a message that she had arrived in the country legally and had planned her trip ahead of time; "it was not about two days that I came here all of a sudden," she stated in the video.
She asked the press to "please stop harassing my family and children." Arvind, Anju's husband, lives in Rajasthan. They're parents of a son, age six, and a daughter, age fifteen.
Read more related articles
Anju's visa allowed her to enter Pakistan legally.
Anju crossed the Wagah-Attari border from India into Pakistan officially. The decision to provide Anju a 30-day visa valid for Upper Dir only was communicated to the chancery via an official document from the Ministry of Interior submitted to Pakistan's High Commission in New Delhi.
The youngest of five brothers, Nasrullah has a physics degree from Sheringal University. Anju will return to India on August 20 after he swore an affidavit to the local authorities declaring no romantic interest between them.
A senior police official in the area has confirmed that the Indian woman's travel documents are valid and that she is safe to stay with Nasrullah, who has been responsible for caring for her.
Upper Dir District Police Officer (DPO) Mushtaq Khan said on Monday, "She traveled to Pakistan on a monthlong visit visa, and all her travel documents are valid and complete."
After leaving New Delhi for love, "Anju" has settled in Pakistan, Khan said Geo News.
An #Indian Christian girl, #Anju (after converting to Islam she is Fatima now) has married to her Pakistani friend, 29-year old Nasrullah in Dir Upper in Khyber Pakhtunkhwa. Both developed friendship on social media & she arrived in #Pakistan a few days ago. pic.twitter.com/cC312JfeMk

— Mushtaq Yusufzai (@MYusufzai) July 25, 2023
Arvind, Anju's husband, told reporters in Bhiwadi, Rajasthan, that Anju had left the house on Thursday, saying she was traveling to Jaipur. Still, the family later discovered she had gone to Pakistan. He expressed his desire for her to come back to the family.
Seema Ghulam Haider's case is reminiscent of what happened to Anju. Seema, a mother of four from Pakistan, secretly traveled to India to be with Sachin Meena, a Hindu guy she met online in 2019.
According to the police in Uttar Pradesh, Seema, 30, and Sachin, 22, live in the Rabupura neighborhood of Greater Noida, near Delhi, where he operates a provision store.