Jio Phone Prima 4G Launch Date: A Game-Changer In The Making!!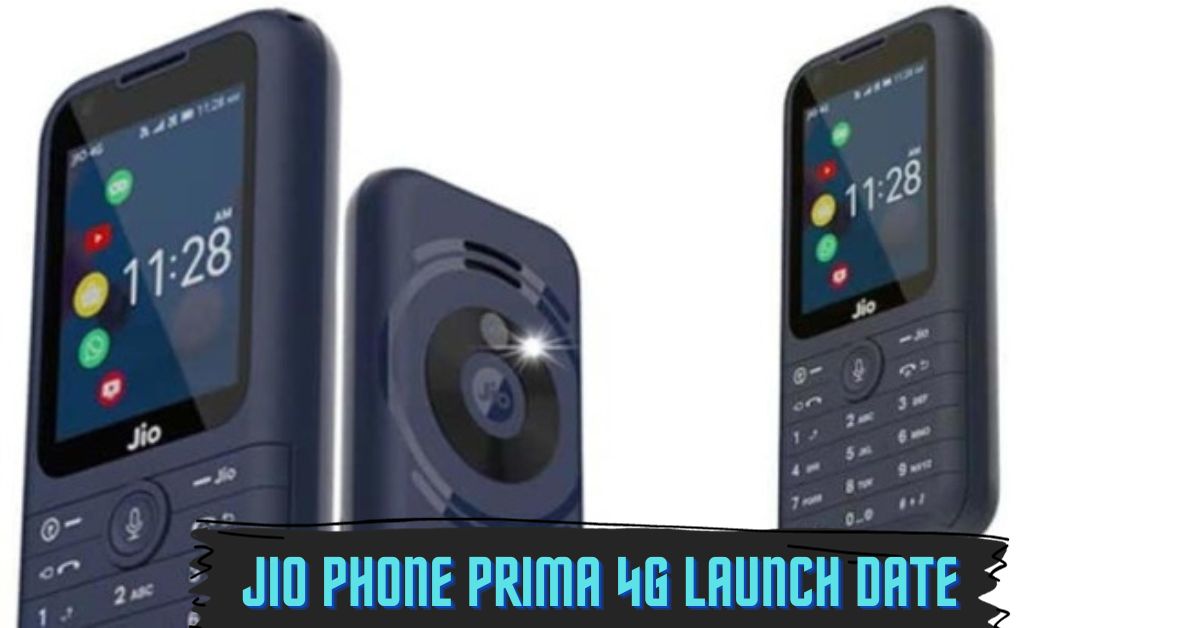 Yesterday marked the end of Mobile Congress's seventh chapter. Reliance Jio took use of the occasion to introduce the Jio Phone Prima 4G, their newest 4G smartphone, during the event. This phone is a great value for customers because it is feature-rich and reasonably priced.
Even though the phone was unveiled during the event, many are still interested in knowing what is the Jio Phone Prima 4G launch date. Read on for all the information you need to know about the Jio Phone Prima 4G launch date in this article!
Jio Phone Prima 4G Launch Date
The Jio Phone Prima 4G, a new phone from Reliance Jio, has been unveiled. At the Indian Mobile Congress 2023 (IMC), the company unveiled the phone and revealed that the Jio Phone Prima 4G launch date is around Diwali this year.
Here is an official tweet that confirms that the Jio Phone Prima 4G launch date is set to be around Diwali 2023:
Jio Prima 4G phone launched in India at Rs 2,599:
Reliance #Jio has launched its latest feature phone, the 𝗝𝗶𝗼𝗣𝗵𝗼𝗻𝗲 𝗣𝗿𝗶𝗺𝗮 𝟰𝗚.

It features a 2.4-inch display and is powered by an ARM Cortex-A53 processor.

Officially launched Diwali 2023 #JioPhone #JioBharat pic.twitter.com/Q9mJO3EVqv

— Tech Gyan (@TechGyanlife) November 1, 2023
On the JioMart website, the phone is currently advertised with details, nevertheless. YouTube and WhatsApp are among the social media apps that come pre-installed on the JioPhone Prima 4G, a feature phone with an elegant design.
Jio Phone Prima 4G Availability And Cost
With a resolution of 320×240 pixels, the 2.4-inch TFT display of the recently introduced Jio Phone Prima 4G is impressive. The phone also has a camera, which includes a 0.3-megapixel front-facing camera, and a flashlight.
This Jio phone has 512MB of RAM under the hood, and with the use of a micro SD card, it can expand its storage to 128GB. This 4G phone's ARM Cortex A53 processor powers its KaiOS operating system, which guarantees seamless performance.
The 1800mAh battery of the Jio Phone Prima 4G offers sufficient power to sustain your phone's operation for a considerable amount of time, while Bluetooth 5.0 connectivity is also included.
Features And Specifications
Regarding features, the Jio Phone Prima 4G has an FM radio function that is perfect for listening to your preferred stations while on the road. Pre-installed applications on the phone include YouTube, Jio TV, Jio Cinema, Jio Saavn, and Jio News. Additionally, Jio Pay and Cinema are available to consumers for updated functionality.
Jio Phone Prima 4G Launched at Rs.2599

This Phone will Support Whatsapp, YouTube and Many Apps.#JioPhonePrima4G pic.twitter.com/pRP5Z8lnDr

— TechGlare Deals (@Tech_glareOffl) October 29, 2023
First Collaborative Venture Between Jio And SES
With the debut of Jio SpaceFiber, a satellite internet service, distant parts of India that had no connection to the internet can now have gigabit speeds. To access SES's O3b and O3b mPOWER satellites—the only MEO satellites capable of delivering fibre-like internet services from space—Jio has teamed up with the satellite telecommunications provider SES.
This is not the first collaborative venture between Jio and SES; in early 2022, the companies unveiled Jio Space Technology Limited. Geostationary orbit (GEO) and medium Earth orbit (MEO) satellites are the first to be successfully operated and commercialized by SES, the first firm in the world to do so.
Look here for some more interesting articles:
With more than 70 satellites in orbit, SES serves millions of users globally with data and video services. Several well-known companies, such as Microsoft, Honeywell, Hughes Network Systems, Amazon Web Services, and SpaceX, have also cooperated with SES. Four of the most isolated places in India—Gir in Gujarat, Korba in Chhattisgarh, Nabarangpur in Odisha, and ONGC-Jorhat in Assam—are where Jio is first launching SpaceFiber.
Although Jio has not yet disclosed the next location for SpaceFiber to develop, it is probably going to happen soon. Interestingly, this is the first time gigabit internet via satellite has been made available by an Indian provider. To sum up, the Jio Phone Prima 4G launch date is drawing near, and it looks like it will revolutionize the mobile industry.
About the Jio Phone Prima 4G launch date, that is all we have found out. We will definitely update this article if there are any updates or changes about the Jio Phone Prima 4G launch date. Visit our page Digi Hind News for more such information in the interim.