KL Rahul Net Worth 2023: How the Indian Cricket Star Makes His Millions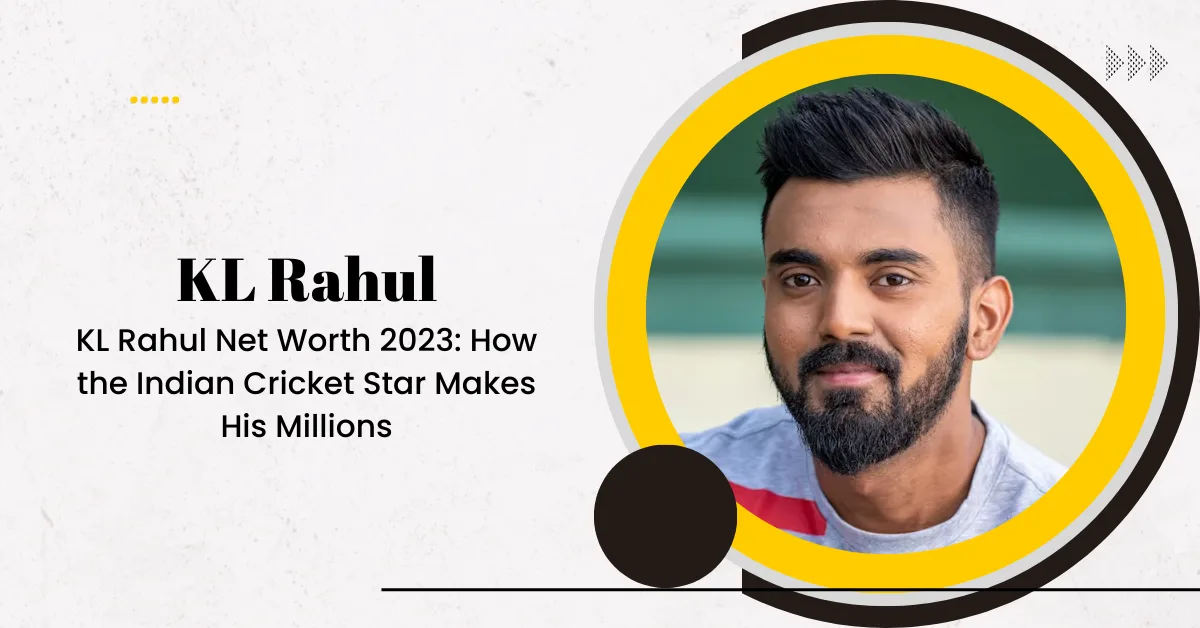 KL Rahul is one of the most popular and successful cricketers in India. He is the vice-captain of the Indian cricket team in all formats and the captain of the Lucknow Super Giants in the Indian Premier League (IPL). He is also known for his stylish batting, charismatic personality, and glamorous lifestyle. But how much is KL Rahul net worth in 2023 and how does he make and spend his money? In this article, we will explore KL Rahul's net worth, income sources, assets, endorsements, and expenses.
KL Rahul Net Worth in 2023
As of September 2023, KL Rahul is estimated to have a net worth of ₹99 Crore ($12 Million). His main sources of income include his IPL salary, BCCI salary, and brand endorsements. He is categorized in the B grade category of BCCI's Annual Contract, which earns him an annual income of ₹5 Crores.
He also earns a hefty amount of ₹17 Crores from his IPL contract with Lucknow Super Giants. Apart from his cricket earnings, he also makes money from various brand deals and collaborations.
KL Rahul's Income Sources
KL Rahul has multiple streams of income that contribute to his wealth. Here are some of his major income sources:
Cricket Salary
KL Rahul earns a significant amount of money from playing cricket for India and Lucknow Super Giants. He is one of the most consistent and versatile batsmen in the world, who can play in any format and any position. He has scored over 6000 runs in international cricket, with 11 centuries and 28 half-centuries.
He has also played in 95 IPL matches, scoring over 2800 runs with two centuries and 23 half-centuries. He was the Orange Cap winner in the 2020 IPL season, scoring 670 runs in 14 matches. As per his BCCI contract, he earns ₹5 Crores per year as a B-grade player.
He also gets match fees, bonuses, and incentives for his performances. According to reports, he gets ₹15 Lakhs per Test match, ₹6 Lakhs per ODI match, and ₹3 Lakhs per T20I match. Additionally, he gets ₹17 Crores per year from his IPL contract with Lucknow Super Giants, making him one of the highest-paid players in the league.
You can also check out other celebrities' net worths we have covered recently:
Brand Endorsements
KL Rahul is a popular brand ambassador for many products and services. He has a huge fan following on social media, with over 14.7 million followers on Instagram and over 8.2 million followers on Twitter. He is known for his fashion sense, fitness, and lifestyle.
He endorses brands such as Puma, Gully Live Fast, and Cure. fit, Zenovit, JioSaavn, Colgate, Cultsport, Boat, and more. He also has his own clothing line called Gully by KL Rahul. He reportedly charges around ₹1 Crore per endorsement deal.
KL Rahul has shared a post on his official Twitter account:
This one's for mi familia ❤️ pic.twitter.com/0yJVlPA12x

— K L Rahul (@klrahul) September 11, 2023
KL Rahul's Assets
KL Rahul owns several assets that reflect his lavish lifestyle. Here are some of his notable assets:
Cars
KL Rahul is a car enthusiast who loves to drive fast and luxurious cars. He owns a collection of cars that includes:
Lamborghini Huracan Spyder: This is KL Rahul's most expensive car, which costs around ₹4.10 Crores. It is a convertible sports car that can accelerate from 0 to 100 mph in 2.6 seconds.
Aston Martin DB11: This is another luxury car that KL Rahul owns, which costs around ₹3.29 Crores. It is a grand tourer that has a 5.2-litre twin-turbocharged V12 engine.
Mercedes-Benz AMG C43: This is a high-performance sedan that KL Rahul drives, which costs around ₹82.47 Lakhs. It has a 3.0-litre V6 bi-turbo engine that produces 390 hp.
BMW X7: This is a premium SUV that KL Rahul owns, which costs around ₹1.22 Crore. It has a spacious interior that can seat seven people comfortably.
BMW 5-Series: This is another luxury sedan that KL Rahul owns, which costs around ₹64.50 Lakhs. It has a sleek design and a powerful engine that delivers 252 hp.
Houses
KL Rahul owns a lavish house in Bengaluru, where he lives with his family. The house is located in a posh area and has modern architecture. It has a spacious living room, a dining area, a kitchen, a gym, a swimming pool, and a terrace. The house is also equipped with smart devices and security systems. The estimated value of the house is around ₹5 Crores.
KL Rahul also owns a farmhouse in Khandala, where he often spends his vacations with his friends and girlfriend Athiya Shetty. The farmhouse is surrounded by greenery and has a rustic charm. It has a cozy bedroom, a fireplace, a jacuzzi, and a garden. The estimated value of the farmhouse is around ₹3 Crores.
KL Rahul's Expenses
KL Rahul spends his money on various things that he enjoys and values. Here are some of his major expenses:
Travel
KL Rahul loves to travel and explore new places. He often goes on vacations with his girlfriend Athiya Shetty, who is also an actress. They have visited destinations such as Thailand, Maldives, England, Australia, and more. He also travels for his cricket commitments and participates in various tournaments and series. He spends money on flights, hotels, food, and entertainment while traveling.
Charity
KL Rahul is also involved in various charitable causes and initiatives. He has supported organizations such as PETA, WWF, UNICEF, and CRY. He has also donated money and equipment to help underprivileged children and youth in sports and education. He has also participated in fundraisers and awareness campaigns for various social issues.
Taxes
KL Rahul pays taxes on his income and assets as per the Indian laws and regulations. He falls under the highest tax bracket of 30% for his income above ₹10 Lakhs. He also pays GST on his endorsement deals and other services. He also pays property tax and road tax on his cars and houses.
Conclusion
KL Rahul is one of the richest and most influential cricketers in India. He has earned his wealth from his cricket career, brand endorsements, and other ventures. He owns several assets that showcase his luxurious lifestyle. He also spends his money on things that he loves and cares about. He is an inspiration for many young aspiring cricketers who want to achieve success and fame in the sport.