Akshay Kumar Mission Raniganj Trailer Release: A Tale of Heroic Rescues!!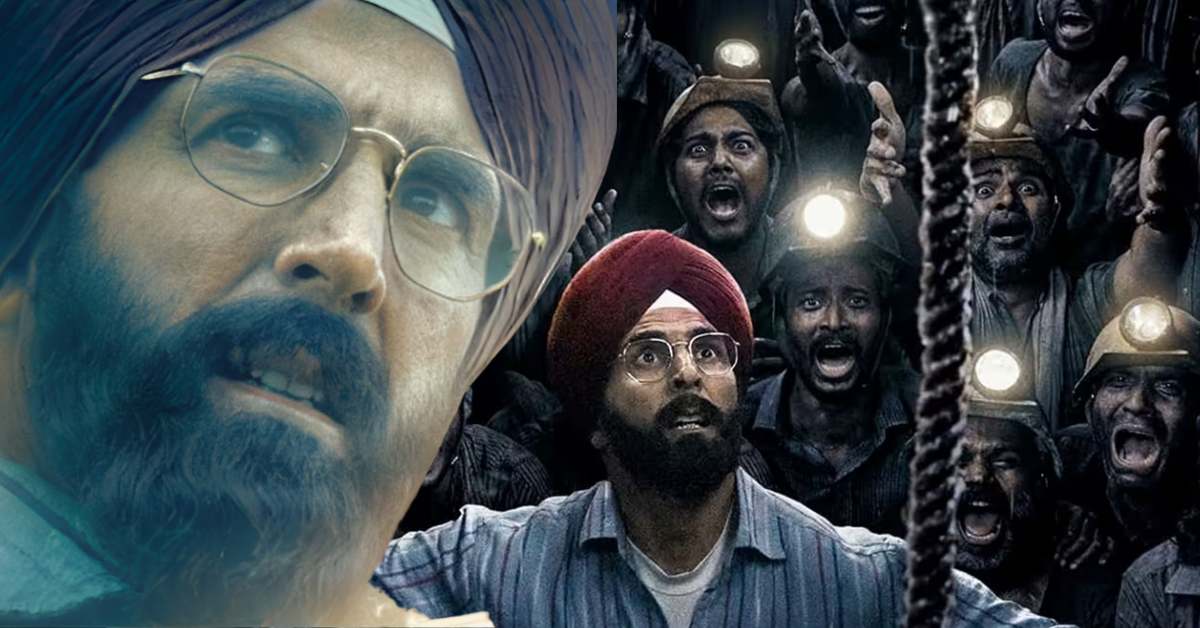 Bollywood superstar Akshay Kumar is all set to take us on an exhilarating journey with his upcoming film, "Mission Raniganj: The Great Bharat Rescue." Based on a true story, this survival drama promises to be a heart-pounding cinematic experience. Let's dive into the details of this film, its intriguing trailer, and what makes it a must-watch.
Akshay Kumar Mission Raniganj Trailer
The makers of Mission Raniganj: The Great Bharat Rescue recently unveiled the film's trailer, giving audiences a thrilling sneak peek into this gripping tale. Akshay Kumar also paid tribute to the real-life hero, Sardar Jaswant Singh Gill, whose bravery the film celebrates. The movie is set to hit theatres on October 6, and it's already generating buzz.
"Mission Raniganj" stars Akshay Kumar and Parineeti Chopra in lead roles. Directed by Tinu Suresh Desai and produced by Vashu Bhagnani, Jackky Bhagnani, Deepshikha Deshmukh, and Ajay Kapoor, the film brings together a talented cast and a committed team to bring this extraordinary story to life.
Wanna know more about Bollywood?
The Gripping Trailer
The recently released trailer provides a glimpse of the intense world of Mission Raniganj:
The 135-second promo wastes no time in setting the stage. It opens with a large group of miners desperately racing for safety as water rapidly fills the mine, cutting off their escape. Unfortunately, they become trapped before they can reach safety.
Enter Akshay Kumar as Jaswant Singh Gill, determined to save the miners. The trailer captures the urgency of the situation as Gill races against time to devise a rescue plan.
Traditional extraction methods won't work due to the high water pressure, so Gill comes up with a groundbreaking solution – an improvised steel capsule deployed through a borewell. He even volunteers to enter the flooded pit, facing immense odds to rescue the trapped miners individually.
With only 48 hours to save those trapped underground, Jaswant Singh Gill takes on the heroic mission. He firmly believes that even if just one person is still alive down there, they're waiting to be rescued. The trailer showcases the tension building in the village as the families of the trapped miners demand answers from the company responsible.
One of the trailer's defining moments is when a character asks Gill if this technique has ever been used in a rescue mission before. Gill's response is resolute: "No, sir, India will be the first." This emphasizes the film's commitment to authentically portraying the heroic story of these unwavering individuals.
Deepshika Deshmukh, one of the film's producers, expressed her excitement about the trailer's release. She mentioned the extensive planning, hard work, and tech team collaborations that went into making "Mission Raniganj." Deshmukh believes that this inspiring story deserves to be seen, felt, and celebrated on the big screen.
The Remarkable Movie Based on True Story
The film draws inspiration from a real-life event that unfolded in November 1989 in Raniganj, West Bengal. During this incident, 65 miners found themselves trapped inside a flooded coal mine. Jaswant Singh Gill, a courageous mining engineer, emerged as their saviour, navigating through immense challenges to rescue them.
"Mission Raniganj" promises to be an unforgettable cinematic experience, celebrating heroism, courage, and the unyielding human spirit in the face of adversity. As we prepare to immerse ourselves in the gripping saga of the rescue of 65 miners trapped in a flooded coal mine, we anticipate a film that will not only entertain but also inspire.
The Joyful Song: Jalsa 2.0
In addition to the heart-pounding rescue mission, "Mission Raniganj" adds a touch of joy with its soundtrack. The chart-topping track "Jalsa 2.0," sung and penned by the talented Satinder Sartaaj, enhances the film's entertainment value:
The trailer even features a delightful surprise – Akshay Kumar and Parineeti Chopra donning Punjabi attire and showcasing their infectious Bhangra moves in a lively dance sequence.
Reveal sizzling headlines and exclusive narratives:
Akshay Kumar's Upcoming Projects
Apart from "Mission Raniganj," Akshay Kumar has a lineup of exciting projects. Fans can look forward to the Hindi remake of the Tamil drama "Soorarai Pottru," scheduled for release on February 16, 2024. Aksay is soon going to feature in  Welcome 3 as well.
He will also grace the screen in an action-packed thriller alongside Tiger Shroff titled "Bade Miyan Chote Miyan" and a comedy film, "Housefull 5," ensuring that there's something for everyone in his cinematic repertoire.
"Mission Raniganj: The Great Bharat Rescue" is poised to captivate audiences with its riveting storyline and exceptional performances. Akshay Kumar's portrayal of Jaswant Singh Gill's heroic efforts promises to be a highlight of this upcoming release.
With a mix of adrenaline-pumping action and heartwarming moments, this film is set to leave a lasting impact on viewers. Mark your calendars for October 6, as "Mission Raniganj" takes you on a roller-coaster ride of courage, determination, and unwavering hope.