Nushrratt Bharuccha Enroute Home After Being Stranded in Israel During Hamas Attack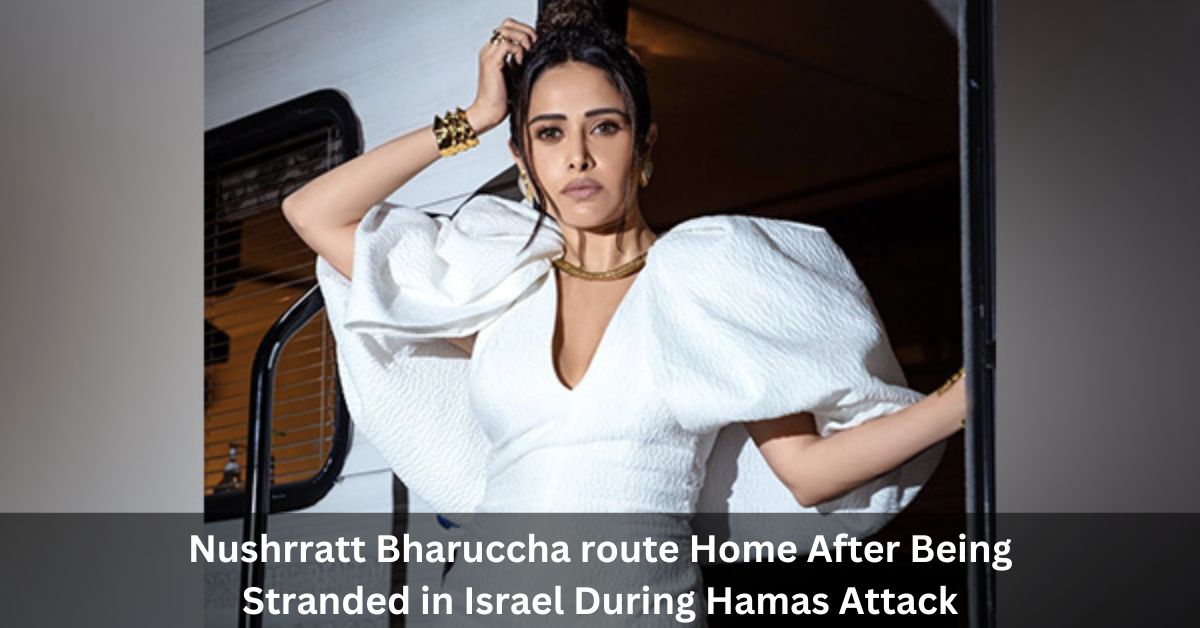 Actor Nushrratt Bharuccha, who found herself in the midst of a burgeoning crisis in Israel following a terrorist offensive by Hamas, has been safely evacuated and is en route back to India. Initial reports had fuelled concerns as her team momentarily lost contact with her amidst the chaos.
JUST IN: #AkshayKumar begins shooting for a movie based on rescuing #NushrrattBharuccha from #IsraelPalestineWar pic.twitter.com/BSiLw9bpYa

— The Fauxy (@the_fauxy) October 8, 2023
Stranded in Israel after Hamas attacks, actor Nushrratt Bharuccha on her way home

Read @ANI Story | https://t.co/FoBg4ojfgn#NushrrattBharuccha #HamasAttack #IsraelHamasWar pic.twitter.com/tDtCEWcdAf

— ANI Digital (@ani_digital) October 8, 2023
However, as per a recent update from the actor's team, they have successfully re-established communication with Nushrratt. Collaborating with the Indian Embassy in Israel, they have arranged her safe return. Due to the absence of direct flights under the prevailing circumstances, Nushrratt is traveling back on a connecting flight. While further details are withheld to ensure her continued safety, her team assures that an update will be shared once she lands on Indian soil. The relief was palpable in their statement, expressing gratitude for her safety amidst such perilous conditions.
🚨 BREAKING NEWS 🚨
BOLLYWOOD ACTRESS NUSHRRATT BHARUCCHA IS CURRENTLY STUCK IN Israel AUTHORITIES ARE UNABLE TO CONTACT HER.
.#NushrrattBharuccha#IsraelUnderAttack #Israel . pic.twitter.com/8ESQTuDWYT

— Ayush (@_ayush95) October 8, 2023
The 38-year-old artist was in Israel to grace the Haifa International Film Festival, marking the debut screening of her latest film, 'Akelli', which also stars Tsahi Halevi and Amir Boutrous. These Israeli actors are recognized for their roles in the acclaimed web series, 'Fauda'.
The ongoing conflict has resulted in a grim tally with nearly 500 lives lost in the rocket exchanges between Hamas and Israeli forces. This surge of violence has drawn widespread condemnation globally.
In the aftermath of the attacks, Israel's Prime Minister, Benjamin Netanyahu, proclaimed a steadfast resolve to counter the "black day" instigated by Hamas, vowing victory despite the steep cost. Concurrently, a statement from Palestine emphasized the recurring cautions about the adverse ramifications of stifling the political discourse and hampering the Palestinian quest for self-determination.
"We will restore security to citizens of Israel and will win": PM Netanyahu at security meet

Read @ANI Story | https://t.co/X2mO3vpAjD#Israel #Hamas #BenjaminNetanyahu #israelhamasconflict pic.twitter.com/1CPHxanWsm

— ANI Digital (@ani_digital) October 8, 2023
Israel PM Netanyahu vows to turn Hamas hideouts into "rubble", tells Gaza residents "to leave those places now"

Read @ANI Story | https://t.co/gyMTQuDb2t#Israel #BenjaminNetanyahu #Gaza #Hamas pic.twitter.com/wm0VdWR6HV

— ANI Digital (@ani_digital) October 8, 2023
Reacting to the distressing developments, Prime Minister Narendra Modi expressed his deep shock and extended India's solidarity with Israel during this turbulent period.
Read more articles
Moreover, in light of the volatile situation, the Indian Embassy has issued an advisory for Indian nationals in Israel, urging them to exercise utmost caution, minimize movement, and stay proximate to safe havens.
The distressing situation has now seen a glimmer of relief with Nushrratt's safe evacuation, shedding light on the intertwined realms of global geopolitics and the entertainment industry.