School Bus-SUV Crash on Delhi-Meerut Expressway Kills 6, Injures 2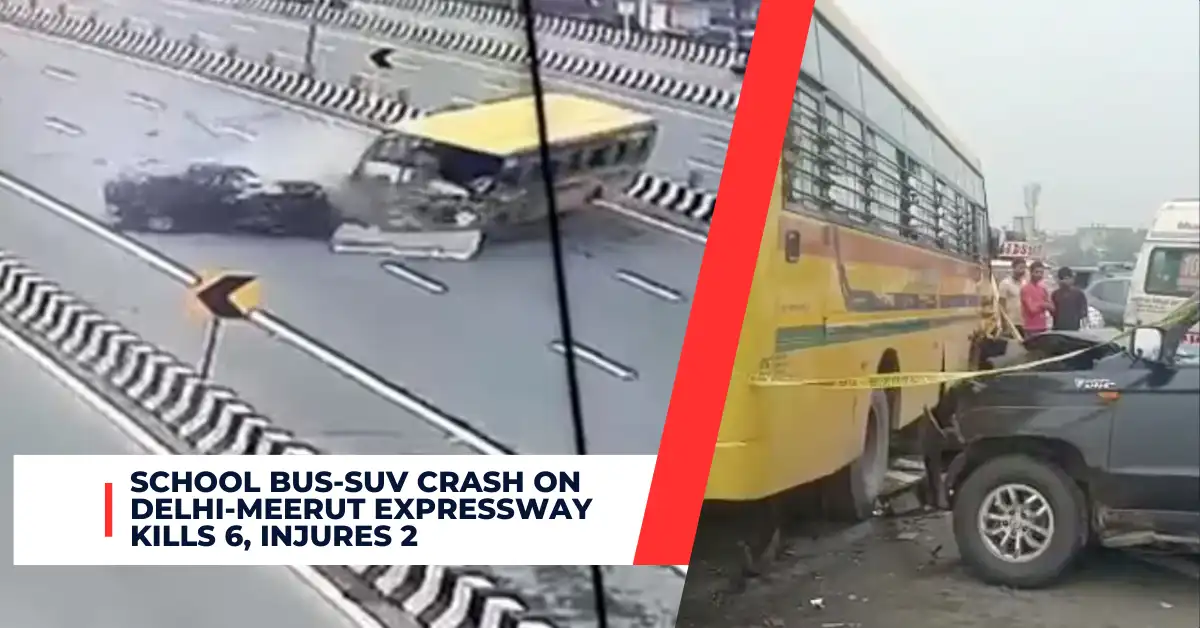 A horrific accident on the Delhi-Meerut Expressway claimed six lives and injured two others after a school bus collided with an SUV in Ghaziabad on Tuesday morning. The accident occurred near the Crossing Republic area around 6:30 am, when the bus came from the wrong direction and hit the SUV head-on. The impact was so severe that both vehicles were badly damaged.
No Students in the Bus, Driver Among the Dead
The school bus belonged to a private school in Noida and was coming to pick up students. No students were on the bus during the accident, only the driver and a helper. The driver was among the six people who died on the spot, while the helper sustained injuries and was rushed to a hospital.
The SUV had eight occupants, including two children. Five of them died on the spot, while three others were injured. One of them, an eight-year-old boy, was in critical condition and was referred to a higher medical facility. The deceased and the injured were residents of Ghaziabad and were going to Noida for some work.
CCTV

Footage Captures the Accident

The CCTV footage of the accident showed that the school bus was speeding on the wrong side of the road and crashed into the SUV, which was coming from the opposite direction. The SUV was thrown off the road due to the impact, while the bus skidded for some distance before coming to a halt. The footage also showed some passersby rushing to help the victims.

Tragic Collision on Delhi-Meerut Expressway Near Ghaziabad Claims 6 Lives: Watch the Video:
WATCH – School Bus-SUV Crash On Delhi-Meerut Expressway Near Ghaziabad, 6 Dead.#BusAccident #Ghaziabad #DelhiMeerutExpressway pic.twitter.com/djl7m4CZRp

— TIMES NOW (@TimesNow) July 11, 2023
The police reached the spot and cordoned off the area. They also retrieved the bodies of the deceased and sent them for postmortem. A case has been registered against the bus driver for rash driving and causing death by negligence.
Have a look at some of the latest trending news:
Heavy Rain Causes Waterlogging and Traffic Snarls
The accident added to the woes of commuters already facing difficulties due to heavy rain in Ghaziabad and other parts of Delhi-NCR. The rain caused waterlogging and traffic snarls on several roads, including the Delhi-Meerut Expressway. The police advised people to avoid saturated routes and follow traffic diversions.