Video of a Monkey That Would Not Leave Its Feeder's Body and Traveled 40 Kilometers to Attend His Funeral in Amroha Has Gone Viral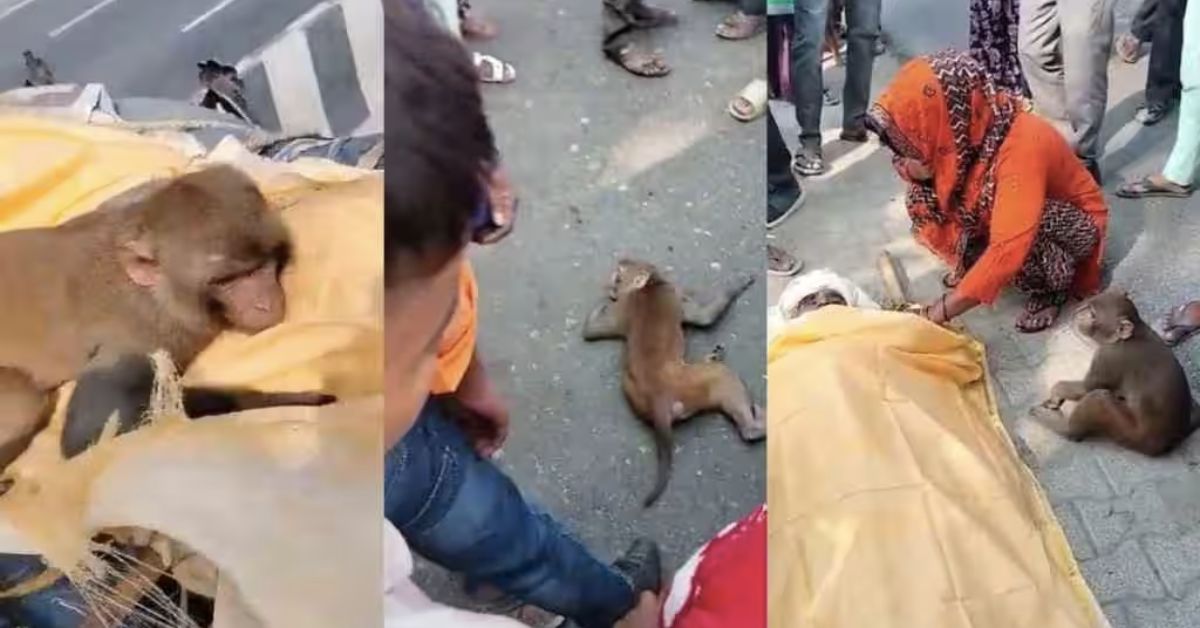 In Amroha, Uttar Pradesh, a man who frequently fed a monkey paid his final respects to the animal, which remained by his body throughout the funeral rites. The monkey was observed sobbing alongside the man's body as the family mourned his passing.
It was also witnessed on the way to the funeral place, where it would not leave the body alone. (Viewer discretion is suggested) WATCH VIDEO
इससे बड़ी निःस्वार्थ प्रेम की मिसाल क्या हो सकती है. एक व्यक्ति रोज़ इस बन्दर को खाना खिलाता था. उस व्यक्ति की मृत्यु पर ये बन्दर बिलख-बिलख कर रोया. घर से घाट तक के सारे संस्कारों में शामिल रहा. ये वीडियो अमरोहा के थाना डिडौली जोया कस्बे का बताया जा रहा है. #viralvideo pic.twitter.com/M13afMIpWf

— Rana Yashwant (@RanaYashwant1) October 12, 2023
It took the monkey 40 kilometers to get to the funeral
It is said that the monkey trekked over 40 kilometers to participate in all of Ramkunwar Singh's ceremonies in UP. Singh has been giving the monkey a slice of bread every day for the past two months. The pair also engages in everyday playtime.
On Tuesday morning, the man passed away. When the monkey returned to the spot as usual, it learned the awful news. According to locals, the monkey was crying, and this was reported in the news.
Read more articles
The monkey reportedly attended the funeral along with other Singh family members and lingered for quite some time at the funeral pyre. The funeral was held at the Tigri Dham, where all religious ceremonies were observed. Images from the location surfaced online, depicting the monkey exhibiting its commitment to the animal feeder and showing how much it loves them.