The Names of 24 New Ministers to Be Inducted in Karnataka Are Out: Check Out Their Names!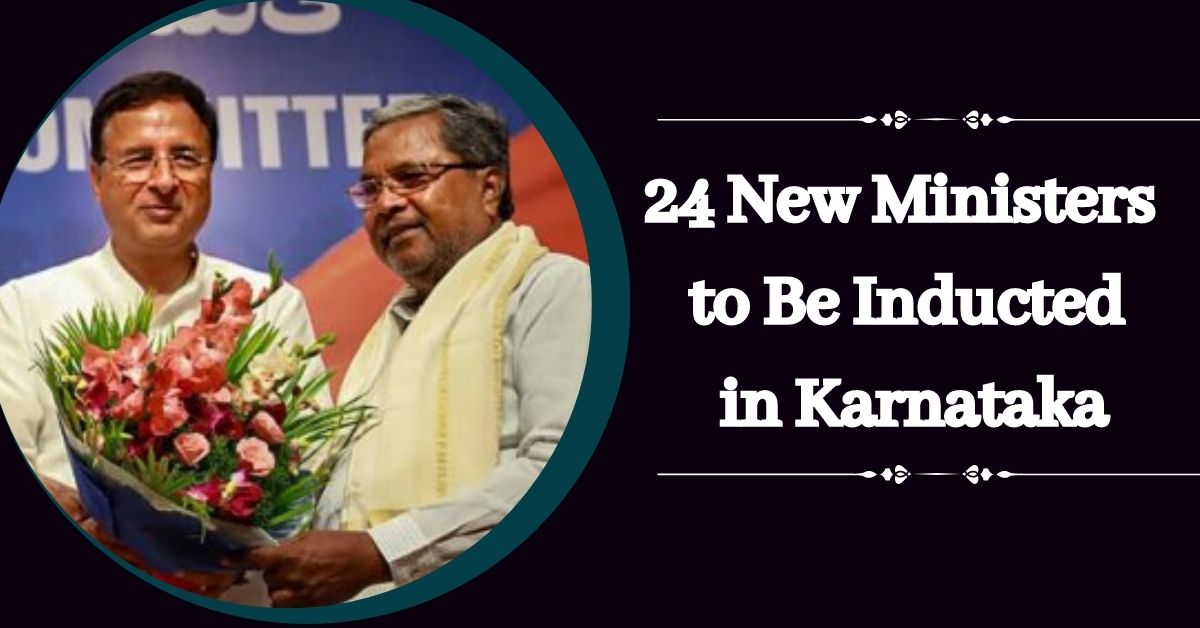 In Karnataka, a woman among 24 ministers was inducted into the Siddaramaiah government. On Saturday, 24 Congress leaders took the oath as ministers in Karnataka. This meant that the state now had an entire government.
The oath of office and secret were given to these 24 ministers by Governor Thaawarchand Gehlot. There are 23 MLAs among these ministers, and NS Boseraju, neither an MLA nor an MLC, was a surprise choice by the Congress's high command.
Friday, the Congress announced the names of 24 more ministers. This brings the total number of ministers in the cabinet to 34, which is the highest number allowed by law.
Karnataka's Increased Ministry Has 9 SCs, 8 Lingayats, and 5 Vokkaligas:
A week after taking power in Karnataka, the Congress government added 24 new ministers to its cabinet on Saturday. This means that all 34 ministerial posts are now filled. A list regarding the same was also shared on Twitter:
New ministers to be inducted tomorrow. #Karnataka #Cabinet
BK Hariprasad not inducted. pic.twitter.com/VV5m3wa513

— Imran Khan (@KeypadGuerilla) May 26, 2023
Six new names come from the Lingayat community, four from the Vokkaliga community, three from scheduled castes, two from scheduled tribes, and five from other backward classes. On this list is one person from each Muslim, Jain, Brahmin, and Namdhari Reddy group. There is only one woman in the cabinet.
Laxmi R. Hebbalkar is the only woman minister in the Siddaramaiah government. She won around 1,06,805 votes in the recent Karnataka assembly election to keep her seat from Belgaum Rural. She beat Nagesh Annappa Manolkar of the Bharatiya Janata Party.
The news came after Siddaramaiah, Shivakumar, and the Congress leadership in Delhi worked hard for four days to find a middle ground between the goals of leaders from different castes, regions, and parties.
This was made even more complicated by the Congress's big win, which was the best in the state since 1989. They won 135 of the 224 seats in the assembly. Randeep Singh wrote a Congratulating note on Twitter; click below to have a look at the note:
Congratulations to all the newly appointed 24 Cabinet Ministers of #Karnataka !

Nearly the entire State is represented, with a rainbow of different castes & religion. Congress Ministry has 6 SC Ministers, 3 ST Ministers, 6 BC Ministers, 3 Muslim Minority ( including the… pic.twitter.com/5seRwhqCZd

— Randeep Singh Surjewala (@rssurjewala) May 27, 2023
During the oath-taking ceremony, fans of MLAs who weren't given ministerial positions, like M Krishnappa, a four-time MLA who was also a minister in the previous Congress government led by Siddaramaiah, shouted slogans and held up signs demanding cabinet positions for their leaders.
Congress sources say that Shivakumar is close to people like Laxmi Hebbalkar, Madhu Bangaraa, D Sudhakar, Cheluvaraya Swami, Mankul Vaidya, and M C Sudhakar.
We just released recent news articles. Read more on the source page:
An official statement released Friday night said that Chief Minister Siddaramaiah had found a good balance by ensuring that each caste and area is represented and senior and junior MLAs are treated with the respect they deserve.
Here's the List of Ministers Who Took Oath:
HK Patil
Sharanaprakash Rudrappa
Krishna Byre Gowda
Sharanabasappa Darshanapur
N Cheluvarayaswamy
K Venkatesh
HC Mahadevappa
Tangadagi Shivaraj Sangappa
Eshwar Khandre
Kyathasandra N. Rajanna
Dinesh Gundu Rao
Shivanand Patil

D Sudhakar

Timmapur Ramappa Balappa
Laxmi R Hebbalkar

Patil Mankal Vaidya

SS Mallikarjun

Rahim Khan

Santhosh S Lad

NS Boseraju

Suresha BS

Madhu Bangarappa

Dr. MC Sudhakar

B Nagendra
The names of the 24 government candidates were chosen after Siddaramaiah, Shivakumar, and the top central leaders, such as AICC general secretaries KC Venugopal and Randeep Surjewala, spent hours discussing them.
We just wrote some latest news stories for you to read. To learn more, click on the link to the source below:
The final OK for the list came from Congress President Mallikarjun Kharge and Rahul Gandhi, who used to be the head of the party. Before that, the two leaders of Karnataka met Sonia Gandhi for the first time since the new government in the state was formed.
Stay connected with Digihindnews.com if you want to know the most recent happenings and information.