WFI Criticizes Exemption of Bajrang Punia and Vinesh Phogat from Asian Games Trials!!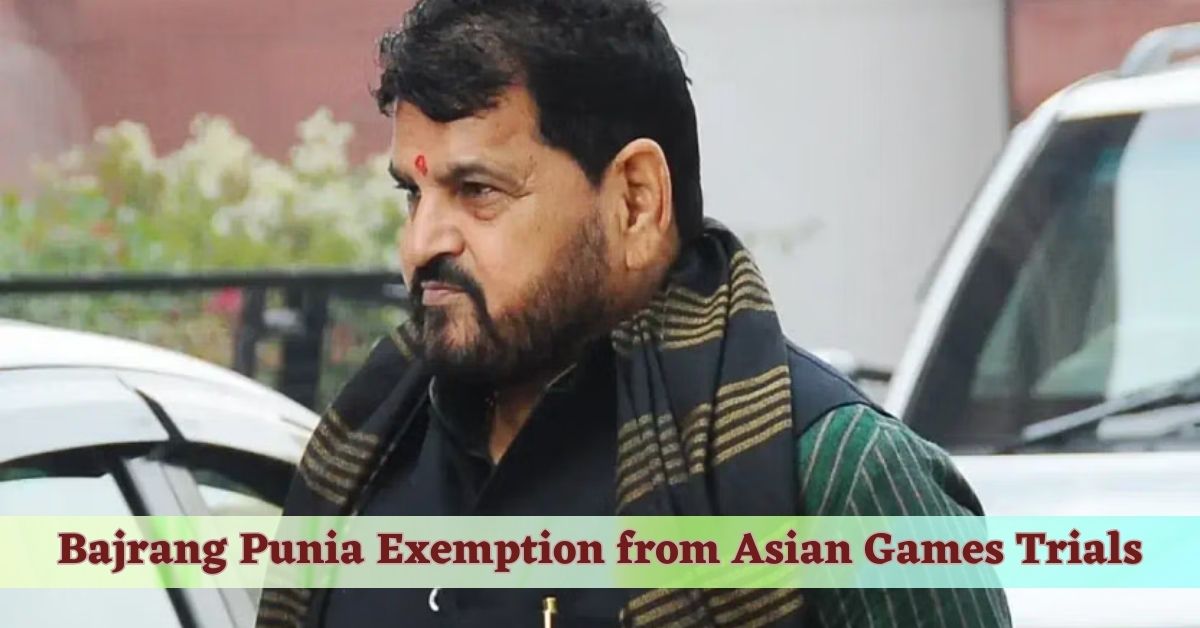 Brij Bhushan Sharan Singh, the outgoing chief of the Wrestling Federation of India (WFI), has expressed his disappointment over the decision to exempt Bajrang Punia and Vinesh Phogat from the trials for the Asian Games.
The controversial move, made by the ad-hoc panel of the Indian Olympic Association (IOA), has sparked criticism and protests from junior wrestlers, including Antim Panghal and Sujeet Kalkal, who have been affected by this decision.
Singh, who is currently facing s*xual harassment charges, believes that such exemptions hinder the development of junior wrestlers and could hurt wrestling in India.
Controversy Over Direct Entries: WFI Chief Opposes Decision for Bajrang Punia and Vinesh Phogat
Bajrang Punia and Vinesh Phogat, prominent names in Indian wrestling, were granted direct entries to the Asian Games by the IOA's ad-hoc panel.
This decision raised eyebrows, especially since both athletes were at the forefront of the protest against Brij Bhushan Sharan Singh.
The controversial move to exempt these star wrestlers from trials has left junior wrestlers, particularly Antim Panghal and Sujeet Kalkal, dissatisfied:
Antim Panghal responds to automatic selection of Vinesh Phogat without trial for the Asian Games! 🚨

Read more here: https://t.co/CZ5XDJi90q#Wrestling #AsianGames2023 #SKIndianSports pic.twitter.com/UPkyOOuLxf

— Sportskeeda (@Sportskeeda) July 18, 2023
They believe that a fair trial for all categories should be conducted instead of direct entries being granted, as this could potentially hinder their chances and opportunities.
Brij Bhushan Sharan Singh admitted to his past mistakes, stating that during his tenure, certain wrestlers were also exempted from trials during the Commonwealth Games.
However, it was later acknowledged that this may not have been the right decision, leading to new rules being passed in the General Body Meeting to prevent such exemptions in the future.
The latest Indian news headlines are here:
The outgoing WFI Chief expressed his concern that granting exemptions to wrestlers undermines the development of junior talents in wrestling. He emphasized the hard work put in by athletes, parents, and fans to uplift the sport in the country.
Singh believes that this decision could have a detrimental effect on Indian wrestling's progress.
The issue has led to protests by junior wrestlers, their families, and supporters who have taken to the streets to voice their grievances against the decision.
Singh also addressed the s*xual harassment charges he is currently facing and expressed his belief that the protests launched by six wrestlers were motivated.
The controversy surrounding the exemption of Bajrang Punia and Vinesh Phogat from Asian Games trials has become a matter of concern in the world of Indian wrestling:
🏋️‍♂️🗣 Delhi High Court seeks WFI's response on wrestlers' plea!
Wrestling fans await the verdict as the Asian Games 2023 debate unfolds.

Details Inside: https://t.co/gqRuPMQ8gn#WrestlingControversy #AsianGames2023 #SportsJustice

— Zee Business (@ZeeBusiness) July 20, 2023
As outgoing WFI Chief Brij Bhushan Sharan Singh raises his voice against the decision, the wrestling community awaits further developments to address the grievances of junior wrestlers and ensure a fair and competitive platform for all athletes.
Join the digital conversation! Connect with us on our social media accounts to stay updated with the latest news, engaging content, and exciting community discussions. Follow, Like, and Share to join our online family. Let's build meaningful relationships and share memorable moments.