Godavari Overflow in Telangana Rain: IMD's Red Alert Warning!!
Telangana is facing a severe rain crisis as the India Meteorology Department (IMD) issues a 'red' alert, predicting heavy to extremely heavy rainfall in the next 48 hours.
The northern districts have already experienced havoc due to heavy rains, causing the Godavari River and several streams to overflow.
The state government has taken preventive measures, shutting down schools and offices till Saturday and putting all districts on high alert to minimize losses and protect lives.
IMD's Rain Warning and Cause
The IMD attributes the heavy rains to a low-pressure area over southern Odisha-northern Andhra Pradesh, with associated cyclonic circulation extending up to 7.6 km above the mean sea level.
This system is expected to move in a west-northwest direction in the coming days, further intensifying the rainfall. To safeguard citizens and properties, the Telangana government has declared holidays for educational institutions and government offices.
They have also alerted all districts to be on high alert and take necessary measures to mitigate potential damage and protect lives.
Latest news updates:
Rainfall Statistics and Deviation
The state witnessed a staggering deviation in rainfall, with the average recorded rainfall being 406% above normal on Friday morning. The cumulative average rainfall for the monsoon season has risen to 19% above the normal level.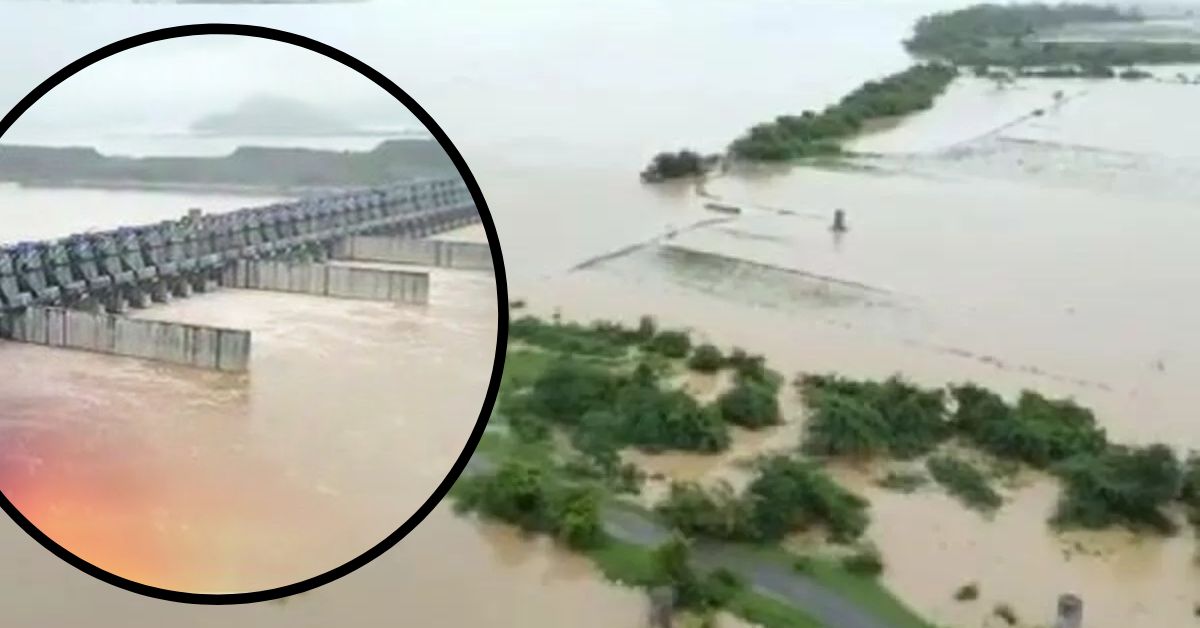 Several districts experienced heavy to very heavy rainfall, with some areas witnessing extremely heavy rain. The highest recorded rainfall was in Ramadugu (Karimnagar district), with other regions also facing substantial precipitation.
Godavari River Crossing Danger Mark
The Godavari River has surpassed the first danger mark at Bhadrachalam, reaching a water level of 44.3 feet, triggering concerns about flooding in low-lying areas. The authorities have issued alerts to residents to be vigilant and take necessary precautions.
Chief Minister K Chandrashekar Rao has reviewed the situation and directed emergency measures to be taken in affected areas. Helicopters have been made available to the National Disaster Response Force (NDRF) for relief operations.
Various government departments have been instructed to be on high alert, ensuring immediate action and relief for affected communities:
⚠️ #RedAlert⚠️#Telangana is likely to get Heavy to Very heavy with Extremely heavy rainfall (more than 204.4 mm) on 21st July. #WeatherAlert #weatherforecast #monsoon2023 #monsoon@moesgoi@DDNewslive@ndmaindia@airnewsalerts pic.twitter.com/UpmMEkvZU7

— India Meteorological Department (@Indiametdept) July 21, 2023
Also, read these news updates as a matter of concern:
Information – Orange Alert for Telangana: Heavy to Very Heavy Rainfall Expected on 25th and 26th July:
⚠️ #OrangeAlert ⚠️#Telangana expects Heavy to Very Heavy Rainfall on 25nd and 26th July.

Stay Safe! #monsoon2023 #WeatherUpdate #weatherforecast #monsoon #RainfallAlert@moesgoi@DDNewslive@ndmaindia@airnewsalerts pic.twitter.com/pfu0U1lvDu

— India Meteorological Department (@Indiametdept) July 22, 2023
We would like to inform you that Telangana is under an #OrangeAlert for heavy to very heavy rainfall on the 25th and 26th of July. The relevant authorities have issued this weather warning due to an anticipated spell of intense rainfall in the region.
It is crucial to exercise caution during this period and take necessary safety measures. We advise you to stay indoors as much as possible, especially in areas prone to flooding. Avoid venturing near rivers, streams, or low-lying areas.
Please be vigilant and keep yourself updated with weather forecasts and official announcements from local authorities. In case of any emergency or distress, do not hesitate to contact the relevant helplines or local authorities.
We emphasize the importance of ensuring the safety of yourself and your loved ones. Stay informed, and stay safe!
Conclusion
As Telangana faces the onslaught of heavy rains and overflowing rivers, the state authorities are working tirelessly to safeguard citizens and minimize damage.
The IMD's 'red' alert and the government's proactive response demonstrate the seriousness of the situation, with efforts focused on protecting lives and properties at all costs.