Shocking Indifference: Police Mishandle Accident Victim's Body in Muzaffarpur, Bihar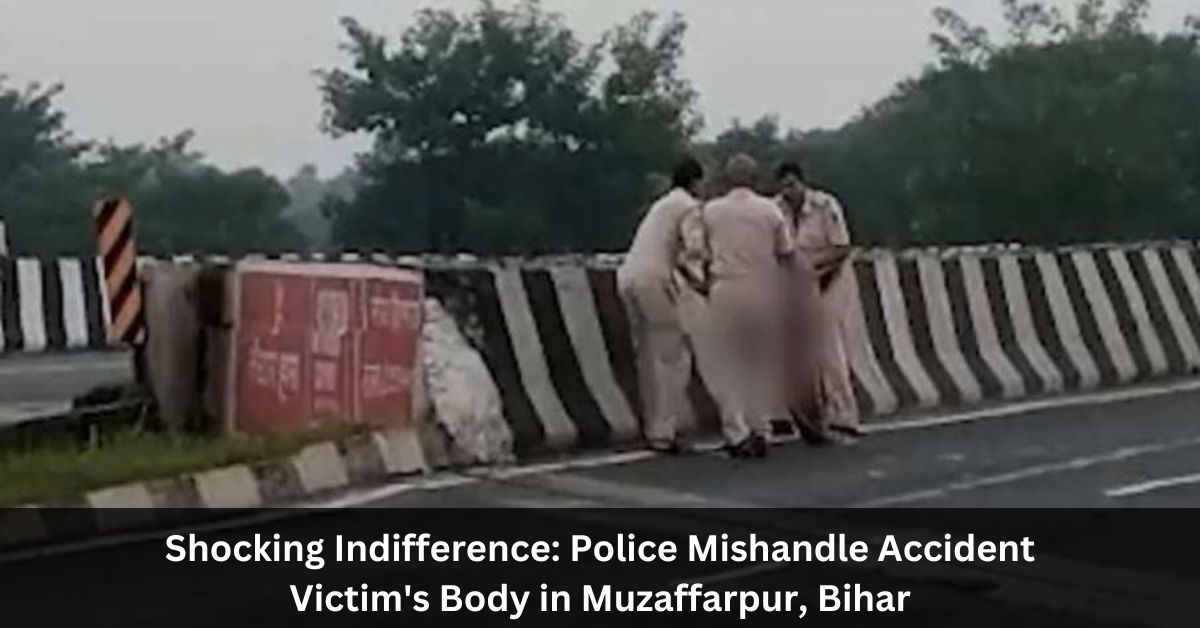 On the 8th of October, a disturbing event unfolded in Muzaffarpur, Bihar, showcasing a blatant disregard for human dignity by the local police. Following a fatal accident on the Hajipur-Muzaffarpur NH-22, officers from the Fakuli police precinct were captured on video, disposing of the victim's body into a nearby canal rather than adhering to proper protocol.
बिहार पुलिस की एक और शर्मनाक करतूत, सड़क दुर्घटना में मृत शख्स के शव को उठाकर नहर में फेंका.
📍फकुली, मुजफ्फरपुर

अभी कुछ दिन पहले 2 पुलिस के जवानों के बीच झगड़े का वीडियो सामने आया था जिसमे वो रिश्वत के पैसे को लेके झगड़ रहे थे।

बिहार पुलिस कोई भी मौका नही छोड़ रही खुद को और… pic.twitter.com/2n7Stnnqrq

— 🇮🇳सुमित नायक भारत (INDIA)🇮🇳 (@sumit_k_nayak) October 8, 2023
The incident occurred near the Dhodhi Canal bridge in the Fakuli OP area, where a fatal road accident claimed the life of an individual. The police, upon arriving at the scene, egregiously mishandled the situation by discarding the deceased's body into the canal instead of transporting it to a medical facility for a post-mortem examination.
The video capturing this harrowing act soon went viral, igniting a firestorm of public outrage over the blatant disrespect and inhuman treatment displayed by the police officers involved. The footage starkly portrays the police from Fakuli OP engaging in this despicable act.
बिहार पुलिस की शर्मनाक करतूत, सड़क दुर्घटना में मृत शख्स के शव को उठाकर नहर में फेंका.

फकुली, मुजफ्फरपुर #bihar #news pic.twitter.com/rS4tZWtvjl

— Nyooz.in (@nyoozin) October 8, 2023
In the wake of this incident, Fakuli OP President Mohan Kumar appeared to defend the actions of the police officers. He stated that while part of the deceased was sent to SKMCH for post-mortem, a portion of the remains, which was stuck to the road, was flushed into the canal.
The disturbing actions of the police officers left the community grappling for answers. The scenario reflects a shocking level of insensitivity and raises significant concerns regarding the moral compass of the law enforcement personnel involved. The blatant mishandling of a deceased individual's body is a stark reminder of the urgent need to instill a higher degree of professionalism and empathy within the ranks of the police force.
Read more articles
The incident has triggered a broader dialogue on the need for robust accountability and reformation within the police force to ensure that such disheartening incidents do not recur. The local authorities, upon learning about the incident from the media, have since retrieved the body from the canal and kept it at Fakuli OP, although questions about the initial mishandling and the disregard for human dignity persist.
This unsettling episode casts a long shadow, prompting a thorough investigation and a re-evaluation of the ethical training imparted to law enforcement personnel to ensure that they uphold the highest standards of humanity, respect, and professionalism in their line of duty.