Adipurush Controversy Started When A Complaint Was Made About The Movie Starring Prabhas And Kriti Sanon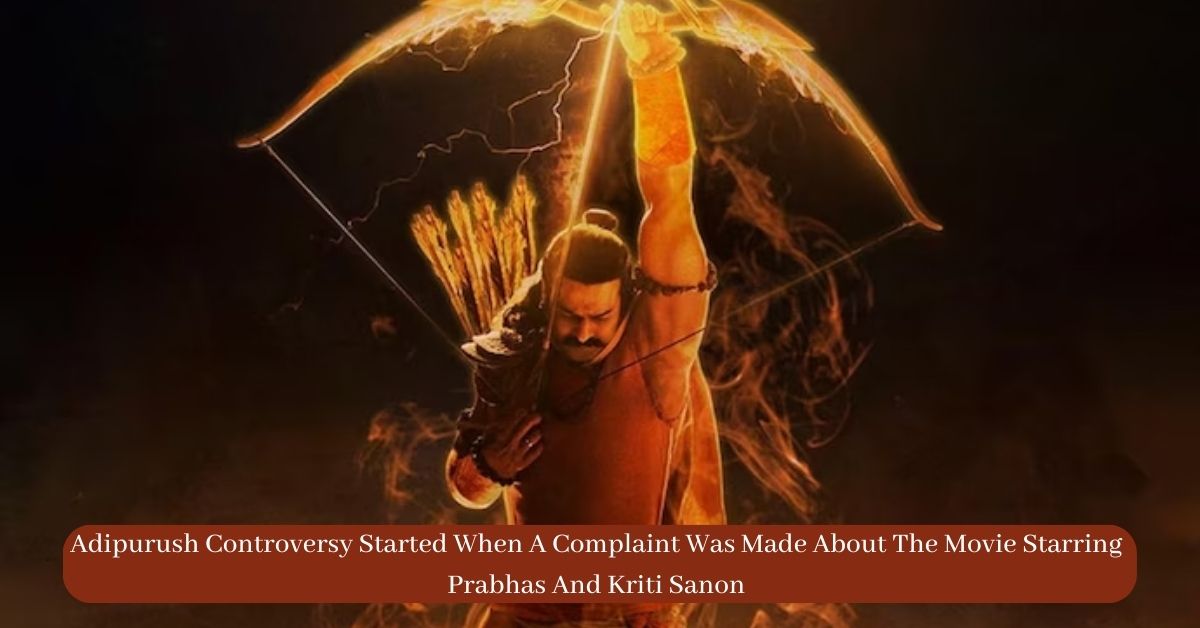 Adipurush, the eagerly anticipated movie starring Prabhas and Kriti Sanon, is the subject of a complaint made to the Central Board of Film Certification (CBFC) board. On May 11, the official trailer for the Om Raut-directed movie was released. Viewers have well received it. It should be mentioned that the audience disliked the teaser primarily due to the VFX. A revised trailer for Adipurush was published months after the film's creators faced criticism for it.
What Is The Adipurush Poster Controversy?
A new complaint was made against Om Raut, Prabhas, Kriti Sanon, Saif Ali Khan, and the other creators of the Ramayana-inspired film Adipurush after the new poster for the film went viral for offending religious sensitivities and misrepresenting characters from Hindu mythology.
According to India Today, a complaint has been made against the new movie poster's inappropriate use of the character from the Ramcharitmanas, a Hindu religious classic. According to the lawsuit, the movie contains incorrect facts despite being based on the life of Maryada Purushottam Shri Ram, found in the Ramcharitmanas, a sacred text of the Hindu religion.
All of the Ramayana's characters, according to the Ramcharitmanas, don a holy thread called Janeu, which Hindus don as a sign of rites of passage. No one in the movie poster, not even Prabhas, who plays Raghav, or Lord Ram, can be seen donning a Janeu.
Here are some recent news and updates like this below: 
Complaint Filed Against Om Raut's Adipurush
Sanatan Dharma Pracharak Sanjay Dinanath Tiwari brought this complaint through Bombay High Court attorneys Ashish Rai and Pankaj Mishra. The filmmaker and the illustrators allegedly made severe errors in the film's posters multiple times in the past, according to the complaint.
The complaint went on to say that flaws caused by the filmmakers during the publication of the poster and teaser will also be found in the finished product, thereby offending the religious sensibilities of followers of Sanatan Dharma. It also mentioned the possibility of a threat to the nation's law and order. The complaint demanded censoring and a particular screen test before the movie's June 2023 theatrical debut.
What We Know About Adipurush?
The conflict between good and evil is shown in the visually stunning video. Om Raut has taken great care to ensure that his vision stays loyal to the subject while offering something fresh and in line with contemporary aesthetics.
Featuring Prabhas as Raghava, Saif Ali Khan as Lankesh, Kriti Sanon as Janaki, and Sunny Singh as Lakshman, Adipurush is a Ramayana-based film. Devdutt Nage plays Hanuman in the movie, featuring Ajay-Atul's music. After a protracted delay, the movie mounted on a massive scale and, with the vision of director Om Raut, is finally scheduled to open in theaters on June 16, 2023.