Breaking News: ISIS Suspect Shahnawaz Arrested in Delhi!!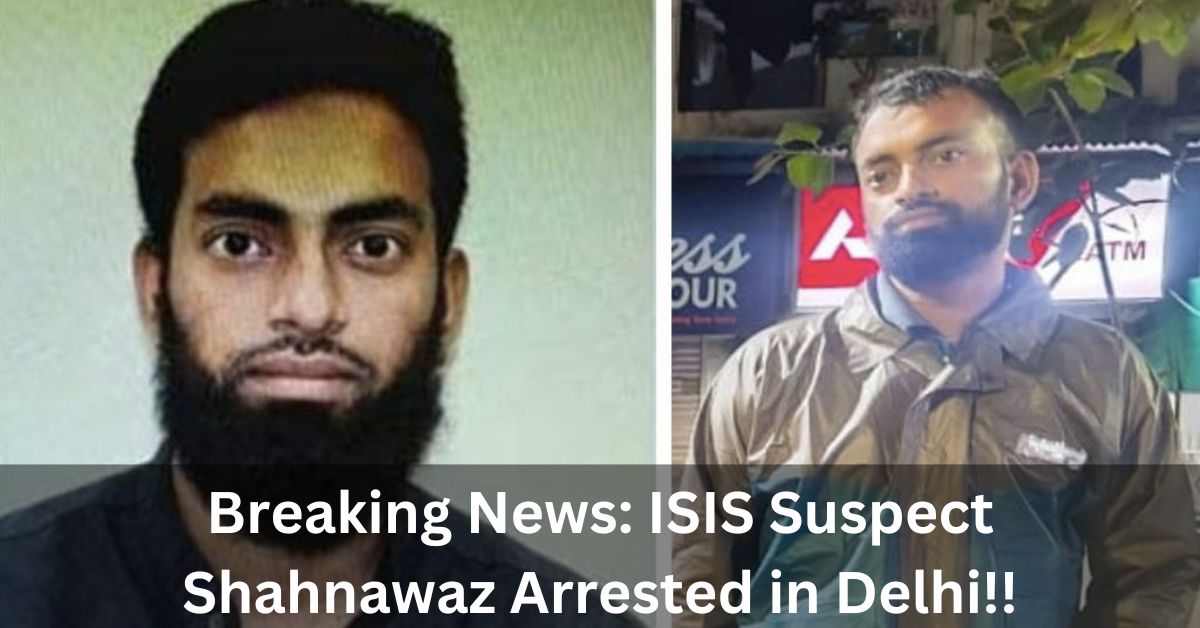 In a significant development, Shahnawaz alias Shafi Uzzama, a suspected ISIS terrorist, has been apprehended by the Delhi Police Special Cell during a massive anti-terror operation. This arrest comes as a major breakthrough in the ongoing efforts of the National Investigation Agency (NIA) and various other law enforcement agencies to dismantle terror networks operating across several states.
The Arrest of Shahnawaz
Shahnawaz, an engineer by profession, had been a fugitive wanted in connection with the ISIS Pune module case. He had successfully evaded capture during a raid in Pune earlier this year, where two of his associates were arrested. After escaping from Pune, Shahnawaz had been living in hiding in the national capital, Delhi.
Delhi police arrest three ISIS wanted terrorists; carrying reward of Rs 3 lakh

Read @ANI Story | https://t.co/pPifl2CTXQ#DelhiPolice #terrorists #Pune #Delhi pic.twitter.com/ifUKcH90BN

— ANI Digital (@ani_digital) October 2, 2023
NIA's Pursuit
Shahnawaz's name featured prominently on the NIA's most-wanted list, with a substantial cash reward of ₹3 lakh offered for information leading to his capture. Alongside Shahnawaz, three other terror suspects—Rizwan Abdul Haji Ali, Abdulla Faiyaz Shaikh alias Diaperwala, and Talha Liyakat Khan—were also subjects of the NIA's relentless pursuit.
Shahnawaz alias Shaffi Uzzama, a most wanted terrorist who had escaped Pune Police's custody was arrested by Delhi Police's Special Cell from Delhi. NIA had declared Rs 3 Lakh reward on his name. He is one of the main accused in the Pune ISIS Case. pic.twitter.com/kJf8OMkGOY

— Ali shaikh (@alishaikh3310) October 2, 2023
Radicalization Through Telegram
Investigations have revealed that Shahnawaz, Abdulla, and Rizwan were radicalized through the Telegram app, a concerning trend in the recruitment strategies of extremist groups. These individuals were believed to be linked to an ISIS module in Pune, Maharashtra. Their sinister objective was to engineer violence and terror within the country, according to NIA sources.
Abdulla's Diaper Store and Escape Plans
Of particular concern is the revelation that Abdulla ran a diaper store in Pune, which was allegedly used as a front for assembling explosive devices. There are fears that Abdulla may attempt to escape to Oman, as indicated by NIA sources.
Read more articles
Rizwan's Complex Journey
Rizwan Ali, another of the suspects, hails from Delhi. He and his younger brother faced arrest in 2018 over alleged ISIS links, although security agencies were unable to find substantial evidence against them. Rizwan was eventually released after undergoing a deradicalization program. He later moved to Pune, where he informed his family that he was running a computer business. Rizwan got married and lived in Pune with his wife. However, he returned to Delhi recently due to his father's deteriorating health. Shockingly, just two months ago, Rizwan left his home, raising further concerns about his activities.
This arrest of Shahnawaz is a significant achievement in the fight against terrorism, and it underscores the relentless efforts of Indian security agencies to ensure the safety and security of the nation. The apprehension of individuals like Shahnawaz and the ongoing pursuit of other terror suspects send a strong message that the authorities are determined to thwart any threats to the nation's peace and stability.