Monster Drags Cow Under His Car for 200 Metres in Ghaziabad; Horrible Video Surfaces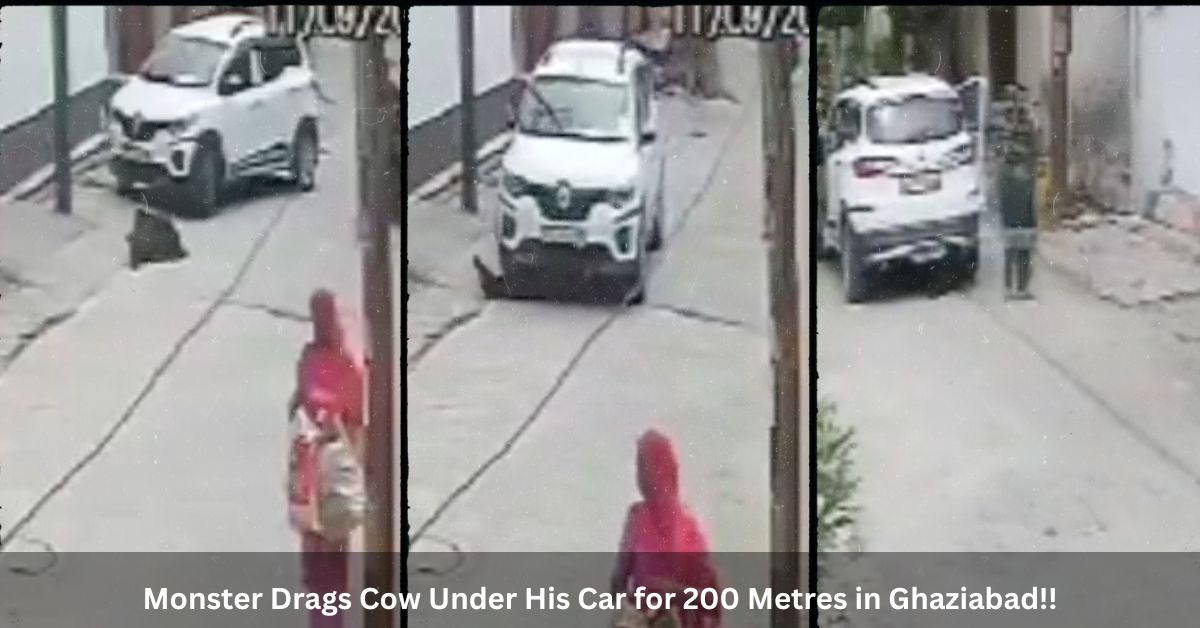 After being hit by a car in Ghaziabad, Uttar Pradesh, a cow was shockingly dragged for nearly 200 meters. The entire hitting and dragging of the cow was captured on surveillance footage.
A video of the incident has gone viral on YouTube and other platforms. The video shows a car hitting a cow that was grazing on the side of the road, dragging it for a while before the driver realizes the animal is caught under the vehicle.
गाजियाबाद के मोदीनगर मे कार चालक ने सड़क पर बैठे गोवंश को कुचला वो कार के नीचे फंस गया कार उसे घसीटते हुए ले गई pic.twitter.com/AGdQrsqdBD

— Lavely Bakshi (@lavelybakshi) September 17, 2023
The man fires up the engine, knocking the cow in front of his automobile over.
Devendrapuri Colony in Modinagar, which is part of Ghaziabad, was the scene of the attack. A man can be seen entering the parked automobile and sitting inside it in the footage. You can also see the cow parked in front of the vehicle.
The man fires up the engine and plows right through the cow that had been waiting on the road. After driving for a while, the man realizes that the cow is trapped under the vehicle. The man comes out and looks under his car, where he discovers the injured animals are trapped.
Cattle are reportedly in a life-or-death situation.
The cattle's condition is reportedly bad. It's currently being cared for in an animal hospital in the area. The suspect, after beating and pulling the animal, ran away from the scene. According to reports, Neeraj Sharma, a member of the Hindu Yuva Vahini, has filed a complaint at the Modinagar Police Station against the accused for harming the animal. The cow was hit by the car and carried for almost 200 meters, according to Neeraj Sharma. After being struck by a car, the cow's condition is grave.
Read more articles
The accused must face severe punishment.
The accused must face severe punishment for their cruel treatment of the cow. The driver did not see the large cow sitting in front of his car, hit it, and didn't realize what had happened until after he had dragged the cow for almost 200 yards.
The police have been notified of the situation and are actively working to apprehend the perpetrator. In an effort to identify the suspect, authorities have reviewed the surveillance tape.