Kartik Aaryan Rise to Bollywood Stardom: Net Worth(2023), Luxurious Lifestyle, and More!!
Kartik Aaryan, Bollywood's latest heartthrob, has taken the film industry by storm with his acting prowess and charismatic presence. Despite starting with no industry connections, he has become one of the leading actors in Tinsel Town. In this article, we will delve into Kartik Aaryan's net worth, annual income, car collection, and his journey from a struggling actor to a Bollywood superstar.
Kartik Aaryan Early Life and Education
Kartik Aaryan, born on November 22, 1990, is a popular Indian actor known for his work in Hindi films. His journey in the film industry has been nothing short of remarkable, and he has become one of the most dynamic and beloved actors in the country.
Kartik Aaryan, whose full name is Kartik Aaryan Tiwari, was born in Gwalior, Madhya Pradesh. He is affectionately called "Koki" by his friends and "Guddu" by his mother. Kartik's educational journey started at St. Paul's School in Gwalior. After completing his early education, he set his sights on Mumbai to pursue a degree in Biotechnology.
He enrolled at D Y Patil College of Engineering, where he eventually earned his engineering degree, although this achievement came after his debut in the film industry.
More about these famous personalities:
Kartik Aaryan's Net Worth in 2023
Kartik Aaryan's remarkable journey in Bollywood has not only earned him fame but also substantial wealth. His net worth in 2023 is estimated to be around 6 million US dollars, which translates to approximately 46 crore Indian rupees. This achievement is particularly impressive, considering his humble beginnings in the industry.
Kartik Aaryan Remuneration Per Movie
One of Kartik Aaryan's notable traits is his flexibility when it comes to his fees for film projects. Unlike some established actors, Kartik adjusts his remuneration based on the genre and market appeal of the film.
On average, he charges between 5 to 10 crore rupees per project. However, for the Hindi remake of "Ala Vaikunthapurramuloo," titled "Shehzada," he is reportedly charging a whopping 21 crores, a testament to his growing star power in the industry.
Kartik Aaryan Luxurious Home in Mumbai
Kartik Aaryan's journey from sharing a flat with 12 aspiring actors to owning a lavish residence in Mumbai's posh neighborhood is truly inspiring. His multi-crore home is a testament to his success and features tasteful furnishings and a soothing color palette that exudes warmth and style. Every aspect of his house, from the flooring to the curtains, reflects the actor's impeccable taste and aesthetic sense.
Kartik Aaryan's Car Collection
The actor's love for cars is no secret, and his collection of swanky automobiles is a reflection of his passion for them. In his garage, you'll find a jaw-dropping lineup of luxury cars:
BMW 5 Series – Valued at approximately 85 lakhs rupees.
Mini Cooper S Convertible – Worth over 40 lakhs rupees.
View this post on Instagram
Lamborghini Urus Capsule – A staggering 4.5 crores rupees.
View this post on Instagram
McLaren GT – An impressive 4.7 crores rupees.
View this post on Instagram
Kartik's car collection not only showcases his success but also his penchant for the finer things in life.
Kartik Aaryan's Brand Endorsements
Apart from his acting career, Kartik Aaryan is a sought-after face for several top brands. His endorsement deals include brands like BOAT, OPPO, Emami, Fair and Handsome, and Armani Exchange Men's Watches, among others. These endorsements add significantly to his overall income and popularity.
View this post on Instagram
Learn more about these renowned figures:
Interesting Facts About Kartik Aaryan
Before pursuing a career in acting, Kartik aspired to be a scientist, highlighting his diverse interests.
At the age of four, he got lost in Delhi's Karol Bagh market and was found, after a four-hour search, a memorable incident from his childhood.
Kartik Aaryan is known for his clean lifestyle; he abstains from drinking and smoking.
Despite being a vegetarian, he includes eggs in his diet.
He is an avid sportsperson and actively participates in football and tennis.
In his struggling days, due to financial constraints, Kartik used to cook for his flatmates as a means to earn money, showcasing his culinary skills alongside his acting talents.
Kartik Aaryan Early Film Career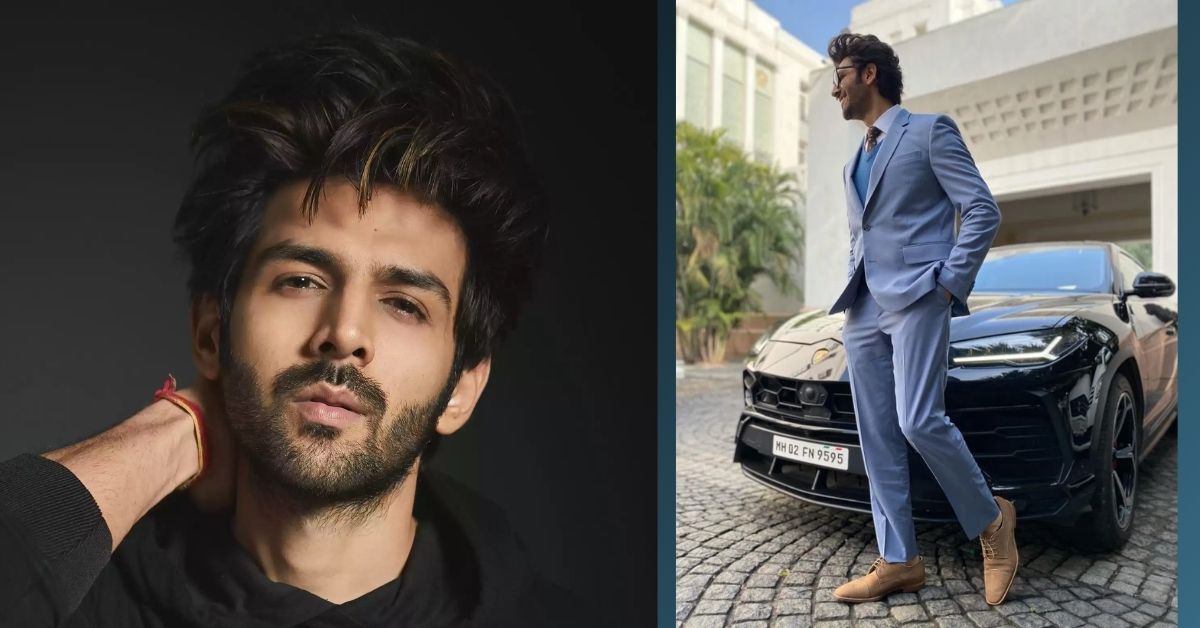 Kartik Aaryan's path to success in Bollywood was not a smooth one. He faced numerous challenges and setbacks before making his mark as an actor. It took him three long years to land his first role in a movie. During this period, he lived in a modest apartment with 12 other aspiring actors.
To make ends meet, Kartik even took on the role of a chef, cooking for his fellow flatmates. His breakthrough came in 2011 when he got the opportunity to star in Luv Ranjan's film "Pyaar Ka Punchnama." The film was a buddy comedy that revolved around the romantic struggles faced by three young men.
Kartik Aaryan's performance in this film caught the audience's attention, particularly his remarkable four-minute monologue, which was one of the lengthiest single shots ever done for an Indian film at that time.
After his debut in "Pyaar Ka Punchnama," Kartik Aaryan continued to work in the film industry. He appeared in movies like "Akaash Vani" and "Kaanchi" in 2013 and 2014, respectively. However, these films did not propel his career forward, and he faced some setbacks in his early years as an actor.
Discover a wealth of information about:
Kartik Aaryan Breakthrough "Sonu Ke Titu Ki Sweety"
While "Pyaar Ka Punchnama 2" solidified his position in Bollywood, it was "Sonu Ke Titu Ki Sweety," released in 2018, that truly catapulted Kartik Aaryan to stardom. This film, directed by Luv Ranjan and co-starring Nushrat Bharucha and Sunny Singh, was a massive success.
It tells the story of Sonu (played by Kartik Aaryan), who plots to separate his best friend Titu (played by Sunny Singh) from his fiancée Sweety (played by Nushrat Bharucha) as he believes she is a gold digger. The film's relatable storyline and Kartik's stellar performance resonated with audiences, making it a breakthrough moment in his career.
Kartik Aaryan's Continued Success and Notable Films
Following the success of "Sonu Ke Titu Ki Sweety," Kartik Aaryan continued to rise in popularity. He appeared in a string of successful films, including "Luka Chuppi" and "Pati Patni Aur Woh," both released in 2019. These romantic comedies showcased his versatility as an actor and further solidified his position in the industry.
In 2022, Kartik starred in the comedy horror film "Bhool Bhulaiyaa 2," which emerged as his highest-grossing release. His performance in the film even earned him a nomination for the prestigious Filmfare Award for Best Actor:
View this post on Instagram
Apart from his successful acting career, Kartik Aaryan has ventured into endorsing various brands and products. His association with brands like Hummel International, Emami Fair, And Handsome, and Manyavar has added to his growing popularity and income.
Kartik Aaryan Recognition and Achievements
Kartik Aaryan's talent and charm have not gone unnoticed. In 2019, he appeared in Forbes India's Celebrity 100 list, ranking 67th with an estimated annual income of ₹103.8 million (US$1.3 million). He continued to make a mark in the entertainment industry and was ranked 15th in GQ India's "30 most influential young Indians" list in 2022.
His appeal extends beyond the screen. Kartik has been involved in various social and charitable activities, including participating in football matches for charity through the All Stars Football Club. He has also raised awareness on issues like plastic pollution and voter participation in his home state of Madhya Pradesh.
Delve deeper into the lives of:
Conclusion
Kartik Aaryan's journey from a young boy in Gwalior to a celebrated Bollywood actor is an inspiring tale of determination, hard work, and talent. Despite facing initial challenges and setbacks, he persevered and found his breakthrough moment with "Sonu Ke Titu Ki Sweety."
Today, he is not only a successful actor but also a popular brand ambassador and a role model for many aspiring artists. Kartik Aaryan's journey in Bollywood is a remarkable tale of talent, determination, and hard work. From a young man with no industry connections to a successful actor with a net worth of millions, his story inspires many aspiring artists.
His luxurious lifestyle, stunning car collection, and lucrative brand endorsements are a testament to his success and rising stardom in the Indian film industry. As Kartik celebrates his 32nd birthday, we wish him continued success and the ability to keep winning hearts with his talent and charm.