Rhea Chakraborty Breaks Silence on Drug Supply Accusations in Sushant Singh Rajput Death!!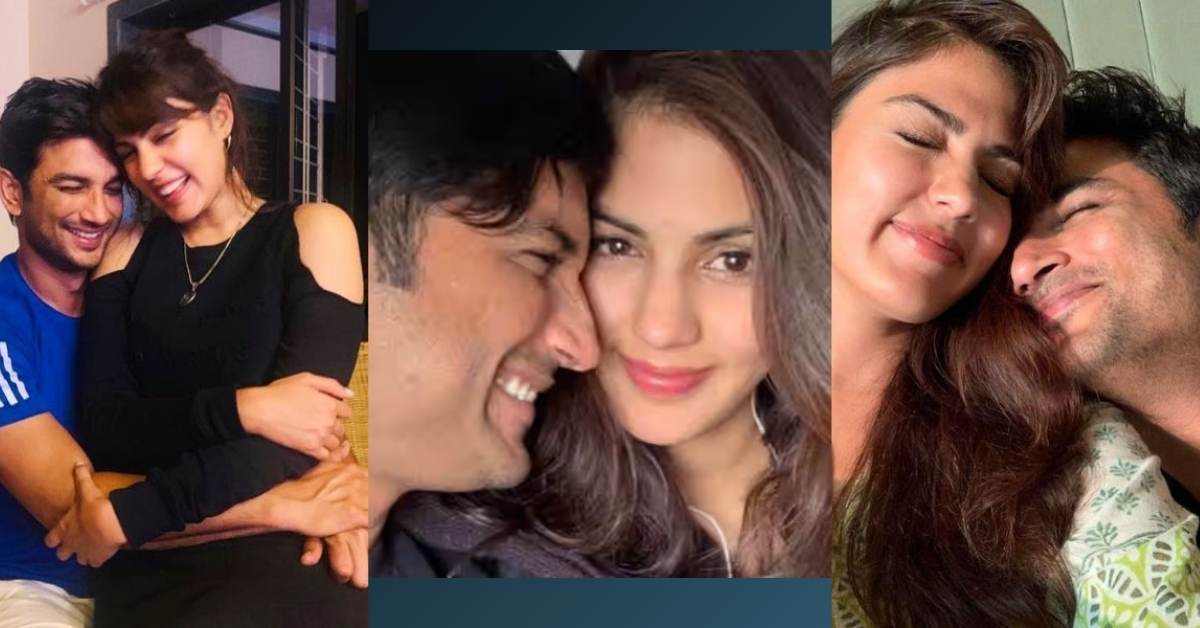 Rhea Chakraborty, who found herself amidst controversy following the tragic death of Sushant Singh Rajput in 2020, has recently spoken about various aspects of her life, including mental health and the infamous 'chudail' title. In a candid conversation, she shed light on these issues and shared her perspective.
Rhea Chakraborty, who was deeply entangled in the mystery surrounding Sushant Singh Rajput's tragic passing in June 2020, has recently had an interview with fresh claims regarding Sushant's demise. This article delves into the latest developments surrounding Rhea Chakraborty's response to allegations.
Rhea's Take on the 'Chudail' Title
Rhea Chakraborty, addressing an audience at a recent interview, expressed her thoughts on being labeled as a 'chudail' (witch). She explained that in the past, a witch was often a woman who defied societal norms and expressed her own opinions, which were contrary to those of men.
Rhea considered herself someone who dared to be different, having her own thoughts and ideas, which might make her akin to a 'chudail.' She even playfully suggested she might know how to do black magic. This remark reflects her defiance against conformity and her willingness to embrace her unique identity.
Watch her full interview here:
Rhea's Insights on Mental Health
Rhea Chakraborty touched upon a crucial issue, mental health, which she believes is still widely misunderstood in India. She acknowledged the positive trend of young people increasingly discussing mental health. However, she highlighted a common misconception that fame and success should shield individuals from depression.
Rhea argued that this misunderstanding persists because society often associates success and fame with happiness, making it difficult for people to accept that even those in the limelight can struggle with mental health issues.
Stay tuned to the latest updates:
Rhea's Response to Allegations of Drug Supply
One of the most controversial aspects of Rhea's association with Sushant Singh Rajput's case was her alleged involvement in drug-related activities. When asked if she had supplied drugs to Sushant, Rhea firmly denied any such involvement.
She also expressed her desire to move on from discussions surrounding drugs, the Narcotics Control Bureau (NCB), and the Central Bureau of Investigation (CBI). Instead, she emphasized the importance of focusing on her mental health and the challenges she faced post-Sushant's demise.
Rhea's Awareness of Sushant's Mental Health
Rhea Chakraborty disclosed that she was aware of Sushant Singh Rajput's mental health struggles during her recent interview. She clarified that while she knew about his mental health issues, she did not possess insight into what led him to take his own life.
Rhea asserted that it was a common misconception that she had access to his inner thoughts and motivations. Her acknowledgment of Sushant's mental health struggles adds a layer of complexity to their relationship:
Honestly she is saying right 🔥💯#RheaChakrabortypic.twitter.com/H1UEVTE9ft

— Viraj (@Yours_Viru) October 6, 2023
Rhea's Life Post Sushant's Death
Rhea Chakraborty's life underwent a significant transformation following Sushant Singh Rajput's tragic demise in June 2020. The two were in a relationship at the time of Sushant's death. Rhea's life took an unexpected turn when the NCB arrested her in September 2020 for alleged involvement in drug-related chats found on her WhatsApp.
Although she was later granted bail, she faced restrictions on her travel for an extended period. During the conversation, Rhea delved deeper into the topic of mental health, highlighting the persistent misunderstanding surrounding it in India.
She pointed out that society often places immense value on fame and wealth, assuming that they should safeguard individuals from mental health issues. Rhea stressed that this misconception makes it challenging for people to comprehend that even individuals who are rich and famous can suffer from mental health problems.
She drew attention to the importance of changing these misconceptions and fostering a more supportive environment for those struggling with mental health issues.
Explore the latest buzz: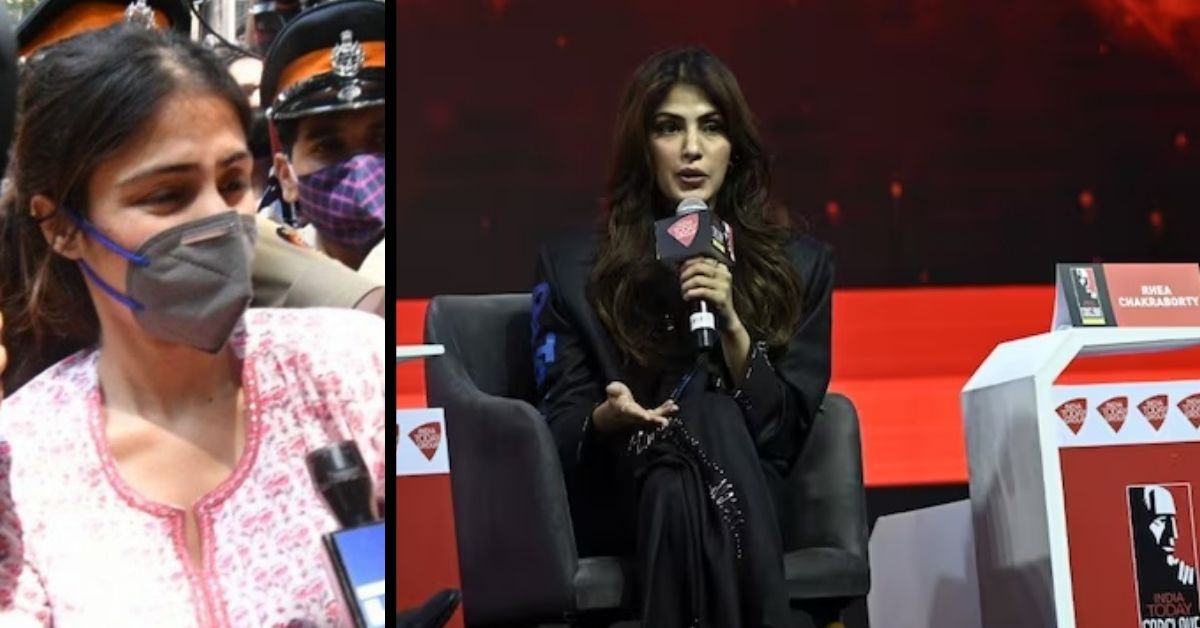 Rhea's Personal Struggles and Patriarchy
Rhea Chakraborty shared her experiences of facing intense scrutiny and the impact of patriarchy on the Sushant Singh Rajput case. She likened herself to an 80-year-old woman trapped in a 30-year-old woman's body, highlighting the emotional toll the entire ordeal had taken on her.
Her remarks shed light on the challenges she faced as a woman navigating a complex and high-profile case in a society influenced by deeply ingrained patriarchal norms. In this recent discussion, Rhea Chakraborty has offered a glimpse into her perspective on various aspects of her life, including her identity as a 'chudail,' her understanding of mental health, and her response to allegations of drug supply.
Her willingness to address these topics openly reflects the evolving conversations surrounding these issues in India. While she continues to grapple with the aftermath of Sushant Singh Rajput's death, Rhea's insights serve as a reminder of the importance of empathy, understanding, and support for those facing mental health challenges in a society where misconceptions still prevail.
Sushant Singh Rajput's Sister Speaks Out on Death
More than two years after Sushant Singh Rajput's untimely demise, his sister Priyanka Singh has come forward to express her views on her brother's death. Priyanka raised questions about the circumstances of Sushant's passing. She suggested that Sushant's death may not have been a suicide and hinted at the role of Rhea Chakraborty in her brother's life.
Learn more about these renowned figures:
Accusations Against Rhea Chakraborty In the Past
Priyanka Singh accused Rhea Chakraborty of having a negative impact on Sushant's life. She claimed that Sushant's family had filed a complaint against Rhea, alleging that she mentally harassed him, exploited him for financial gain, and might have played a part in his death. Rhea Chakraborty has consistently maintained her innocence, all the while emphasizing the importance of addressing mental health issues.
The Relationship Between Rhea and Sushant
At the time of Sushant Singh Rajput's tragic passing, Rhea and Sushant were in a romantic relationship:
View this post on Instagram
Priyanka Singh's statements suggest that Rhea's presence in Sushant's life had a significant impact, which eventually led to a misunderstanding between her and her brother.
The allegations against Rhea have cast a shadow over her role in Sushant's life and death. Priyanka Singh also hinted at potential involvement from the Bollywood industry in her brother's death. She suggested that Sushant's success and independence in the industry might have unsettled some powerful figures. This aspect adds another layer of complexity to the ongoing investigation.
The Tragic Passing of Sushant Singh Rajput
On June 14, 2020, Sushant Singh Rajput was found dead in his Mumbai apartment, sparking a wave of investigations and public scrutiny. His parents filed a case against Rhea Chakraborty, alleging her involvement in abetting his suicide. Additionally, a separate inquiry into alleged drug procurement based on Rhea's WhatsApp chats was initiated by the NCB.
Rhea's Perspective on Closure
Rhea Chakraborty shared her thoughts on the concept of closure in relation to Sushant's death. She expressed that she did not believe complete closure was attainable in such circumstances.
She described the profound personal loss she experienced and how it continually lingers in her life. While acknowledging that her life has evolved, she emphasized that the impact of Sushant's passing would always be a part of her existence.
Gain further insights into the lives of:
Rhea Chakraborty's Career
Rhea Chakraborty, born on July 1, 1992, started her career as a VJ on MTV India. She later ventured into acting, making her debut with the 2012 Telugu film "Tuneega Tuneega" and subsequently appearing in Hindi films such as "Mere Dad Ki Maruti" (2013), "Sonali Cable" (2014), "Bank Chor" (2017), "Jalebi" (2018), and more.
She gained recognition and was even listed as the "Most Desirable Woman" by The Times of India in 2020. Rhea  Chakraborty's personal life has garnered significant media attention.
She began dating actor Sushant Singh Rajput in April 2019 and co-founded an artificial intelligence company called Vividrage Rhealityx with him and her brother in September 2019. However, their relationship faced challenges, and she moved out six days before Sushant's tragic death.
Rhea Chakraborty's involvement in the case drew intense media scrutiny and public interest. She faced a barrage of allegations and negative coverage in the media. Critics argued that sensationalized media trials can prejudice the proper administration of justice, highlighting the need for responsible reporting.