The Impact of Sanjay Singh's Arrest on AAP and I.N.D.I.A. Coalition!!
The recent arrest of Aam Aadmi Party (AAP) Rajya Sabha MP Sanjay Singh has raised concerns about a leadership void within the party. In the wake of the arrests of other top AAP leaders like Manish Sisodia and Satyendar Jain, Singh's absence is expected to be particularly felt at the national level.
This article explores the significance of Sanjay Singh's role in AAP, his contributions, and the potential impact of his arrest, both within the party and on the larger political landscape.
Sanjay Singh's Crucial Role in AAP: The Journey
Sanjay Singh has played a pivotal role within AAP, actively participating in both offensive and defensive strategies for the party. Whenever AAP faced crises, such as the arrests of Sisodia and Jain or legislative challenges, Singh has been a staunch defender of the party's stance, rallying support from the streets to the Parliament.
Born into a middle-class family in Uttar Pradesh's Sultanpur in 1972, Singh's early life was marked by his parents' careers as government teachers. He pursued a diploma in mining engineering but found his true calling when he founded the Azad Samaj Seva Samiti in Lucknow in 1994, advocating for the welfare of miners and street vendors.
Singh's journey into politics began when he joined Arvind Kejriwal's Right to Information campaign in 2006. He was an integral part of the 2011 anti-corruption movement, which eventually led to the formation of AAP. Over the years, Singh has become a key member of the party, serving on the Political Affairs Committee, the apex decision-making body.
Explore the latest buzz:
Sanjay Singh's Political Achievements
Elected to the Rajya Sabha in 2018, Singh has been an active parliamentarian, raising over 200 starred questions and introducing three private member bills. He is also one of the national spokespersons for AAP and has taken charge of the party's efforts in several states, including Uttar Pradesh, Odisha, and Rajasthan.
Singh's recent appointment as a member of INDIA's campaign committee further solidified his role in national politics. In INDIA meetings, a coalition of Opposition parties, Sanjay Singh, has been a prominent representative for AAP, alongside Arvind Kejriwal and MP Raghav Chadha.
His active participation and vocal presence have been instrumental in shaping the party's stance and strategy in these meetings.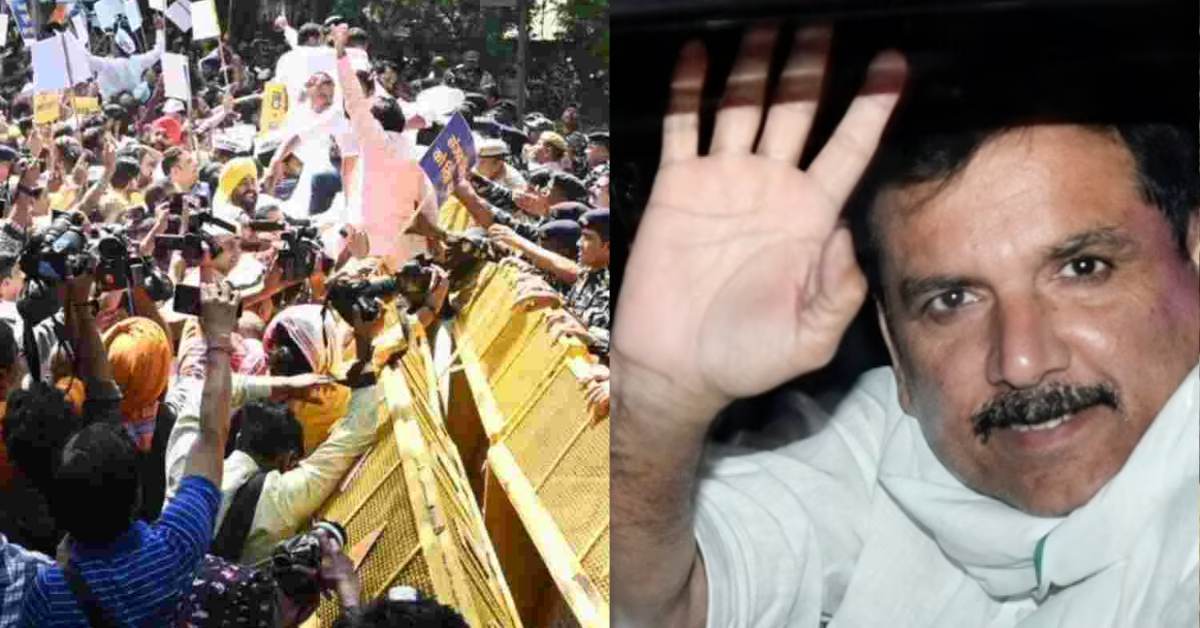 Leadership Void Impact on AAP
The back-to-back arrests of AAP leaders, including Singh, are expected to create a leadership vacuum within the party. Singh was not only a defender of AAP's policies but also a crowd-puller due to his inclusive and receptive approach. His absence will be keenly felt in the upcoming assembly elections in Rajasthan, Madhya Pradesh, and Chhattisgarh.
Refer to the tweet given below to see what the citizen reviewed for this arrest:
Sanjay singh Arrested! Sabhiko Ek saath arrest KARLO maalik! Khatam karo OPPOSITION! pic.twitter.com/bUHTKf42OM

— Ranting gola (@therantinggola) October 5, 2023
On the contrary, the BJP Minister opened and reviewed the court statement as follows:
VIDEO | "For those who are alleging that the case (Delhi excise policy case in which Sanjay Singh has been arrested by ED) is baseless, the Rouse Avenue Court clearly observed that prima facie, the material placed before it nowhere shows that the arrest in the present case is… pic.twitter.com/ft7SVECEp5

— Press Trust of India (@PTI_News) October 6, 2023
Public Perception and Party Beyond State Elections
Political analyst Sanjay Kumar suggests that the continuous arrests of AAP leaders in corruption cases may affect the public perception of the party. Such incidents, coupled with prolonged denial of bail, could lead to skepticism among the public. These leaders are not insignificant; they are prominent faces of AAP.
While the arrests may not have a substantial impact on the upcoming state elections, as AAP is not a major player in these states, the repercussions are felt beyond. Singh's role in shaping perceptions and attacking political opponents will be missed, and his arrest is likely to have a spillover effect on AAP's strategies.
Catch up on the top-notch articles:
Congress and INDIA Coalition Dynamics
The Congress party has expressed solidarity with Sanjay Singh and criticized the BJP for engaging in what it calls 'vendetta politics.' This condemnation raises questions about the dynamics within the INDIA coalition, which includes AAP. The recent arrests have strained relations between the two parties, particularly in Punjab.
Arvind Kejriwal has attempted to divert attention from the growing tension by emphasizing AAP's commitment to fighting the drug menace rather than engaging in political squabbles. Nevertheless, the differences between AAP and Congress in seat-sharing battles persist.
Sanjay Singh's arrest is a significant development in AAP's political landscape. It leaves a void in leadership and strategic planning, affecting the party's prospects in upcoming elections. Moreover, it challenges the unity within the Indian coalition, adding another layer of complexity to opposition politics in India.
As AAP navigates these challenges, its future course in the political arena remains uncertain. Till then, you may stay connected to Digi Hind News for more updates.